UNIFAB is a joint venture between De Fabriek Records and Tapes and Universaalkunst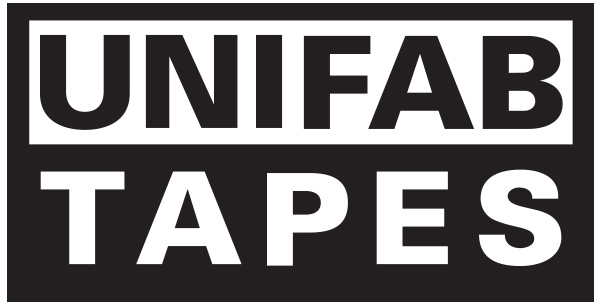 ---
UNIFAB 004
De Fabriek / Chandor Gloomy / Wipeç throught the hands of V-lars and bananskolen delivered by Goodiepal – Living in the Sky Train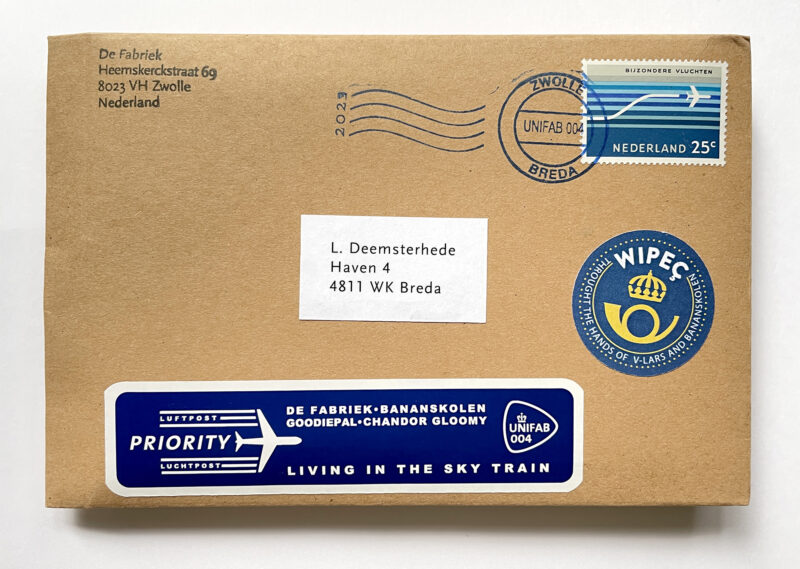 Released July 1, 2023 on UNIFAB
C90 Audio Cassette with priority mail labels and a Esperanto Pan European Union Passport stamped with credits. All packed in a stickered and stamped manilla rivet string envelope. Handmade & limited to 50 numbered copies. Each copy is personalised with the buyers name and address on the cover
For this release De Fabriek were: R.van Dellen, M. Hohmann, C. Jenkins, P. Pet and L.Mossing.
Mixed by Martijn Hohmann and Richard van Dellen, design by Universaalkunst.
UNIFAB TAPES 2023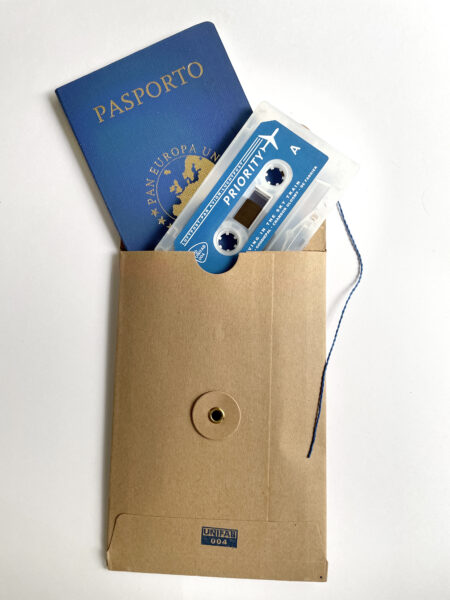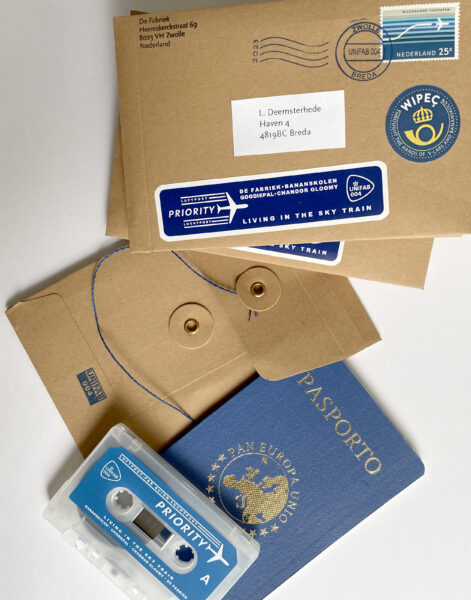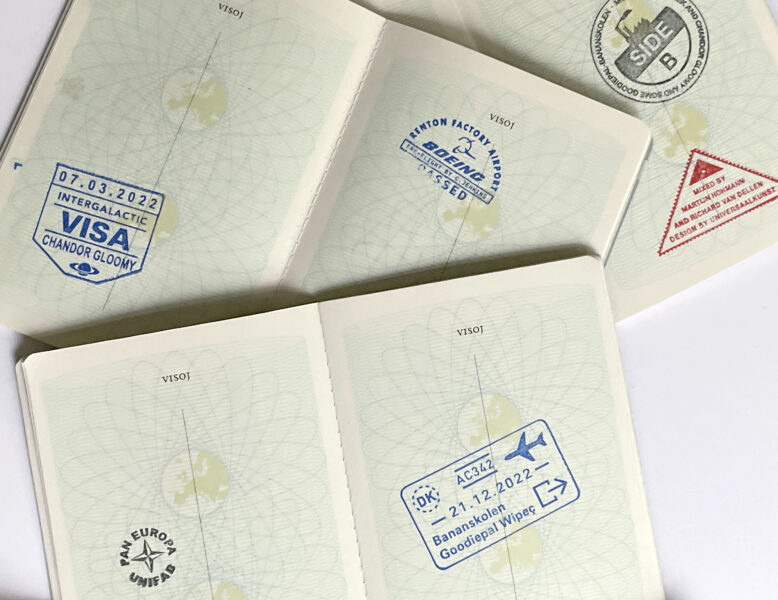 ---
UNIFAB 003
De Fabriek / Esplendor Geométrico – Rooie Disco / Disco Rojo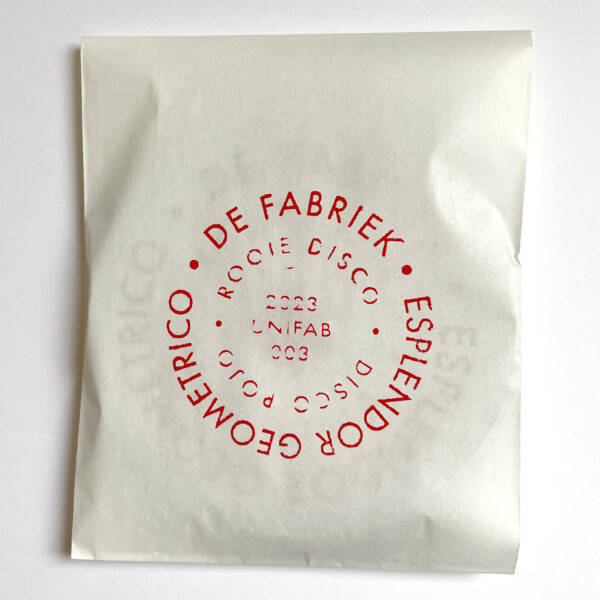 Double CD in silkscreened tin-can holds various inserts housed in an stamped outer paper bag.
Limited to 150 copies.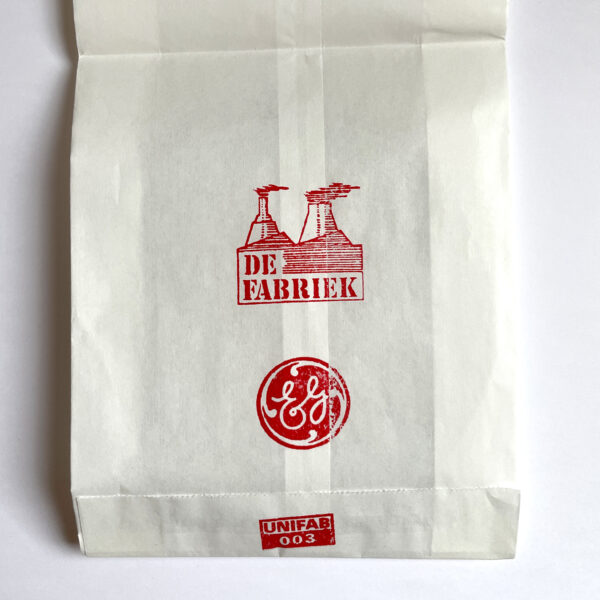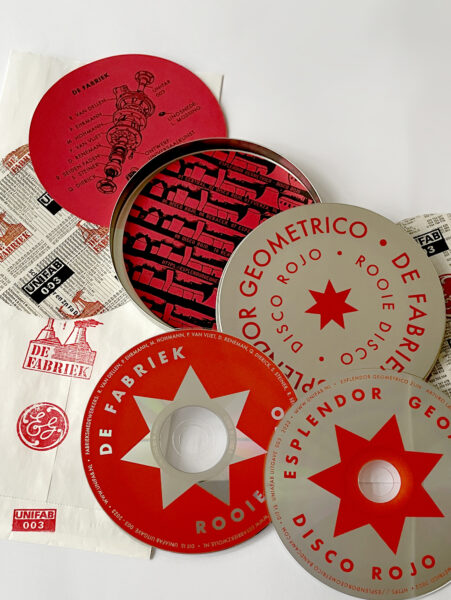 ---
UNIFAB 002
De Fabriek – Operation Gerboise Bleue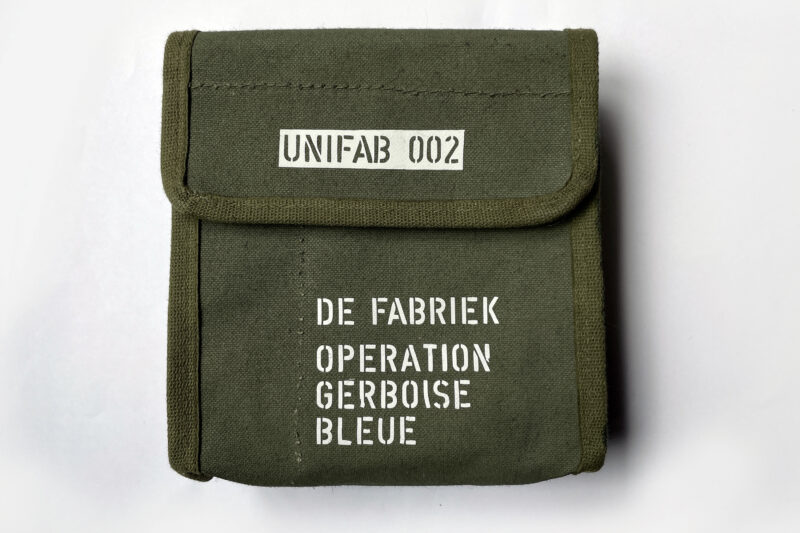 Released on UNIFAB TAPES, a joint venture of Universaalkunst and De Fabriek..
Radiant red CDr with laser-die-cut cover plus C60 Cassette, multiple inserts, a BRL radiation dosage calculator and Potassium iodide tablets. All held in a printed green canvas tactical belt pouch (so you can carry this Fabrieks release wherever you go)
Limited to 23 handnumbered copies.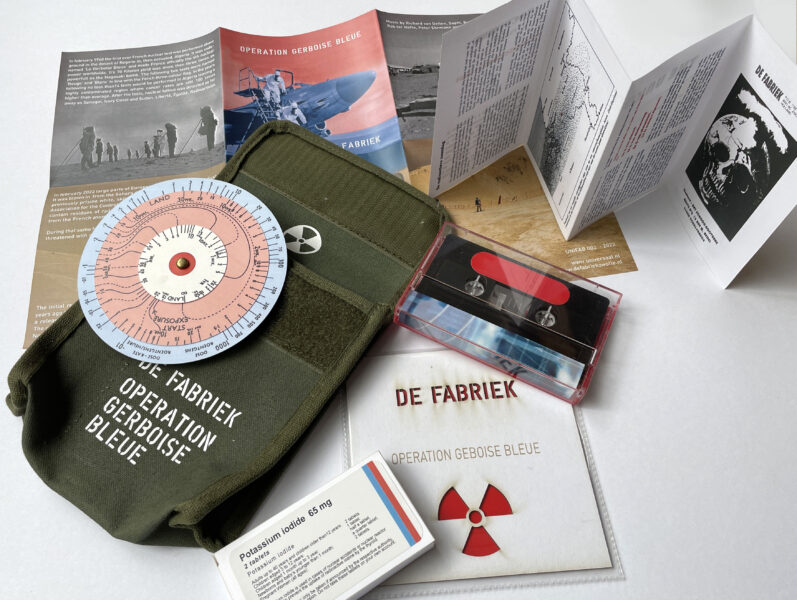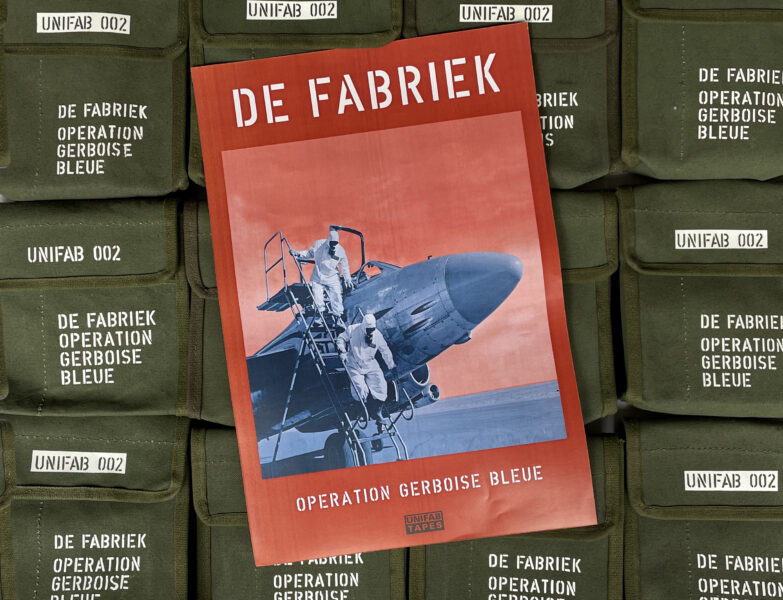 REVIEW

Vital Weekly 1344
DE FABRIEK – OPERATION GERBOISE BLEUE (CDR, cassette by Unifab Tapes)
In the nineties, Francis Fukuyama spoke about the end of history, now communism had 'lost' the cold war. Neo-liberalism forever and no more war. Some twenty years ago, De Fabriek was working on a project about war, but it seemed less relevant (not sure if this was after 9/11!), but the project was shelved and re-booted this year. War is now going on in our backyard (but never was out of any backyard, of course).
Housed in a small military bag, we find a CDR, a cassette, two tablets of Potassium iodide pills, a booklet and other paraphernalia.
Easily one, next to Barreuh's recent release, one of the better packages in recent times, along with Staalplaat's recent LP and CD (see last week). The cassette contains a mix of the material from 2000/2001, by core member Richard van Dellen, along with Barry Rikkering (also known as The Lost Attic, who died years ago), B. ter Hofte and Saphi, while the CDR contains recent music by Van Dellen, Peter 'Pet' Ehrmann and Martijn Hohmann (the latter responsible for the package). The cassette is a typical De Fabriek on cassette affair. Whereas their CDs and LPs contain music that has more development and more editing, some of their cassettes contain their rougher and experimental work. This cassette is one large jam festival of electronics running galore. A couple of synthesizers connected and directly communicating with sound effects run amok. Music for a head/space trip for sure.
On the CD, the war theme is more dominantly present, I'd say. Sounds of war machinery are used here, sounding like guns and cannons, set against military rhythms, saw tooth sounds and sine waves. Here the music is on an equal spacious long-form drift, but, and maybe this is progress after so many years, these drifts are concise and to the point. It all moves around a bit more than before. Some of the 2000/2001 sound material seems to return, now in some transformation mode, with additional new sounds, and more electronics, leading to new configurations and other directions. Sometimes reminding me of Pan Sonic, especially when it all becomes minimal but rhythmic synthesizer sounds, and it all sounds pretty grim. Grim but terrific, I'd say. (FdW)
---
UNIFAB 001
The Holstein Tapes Vol. 1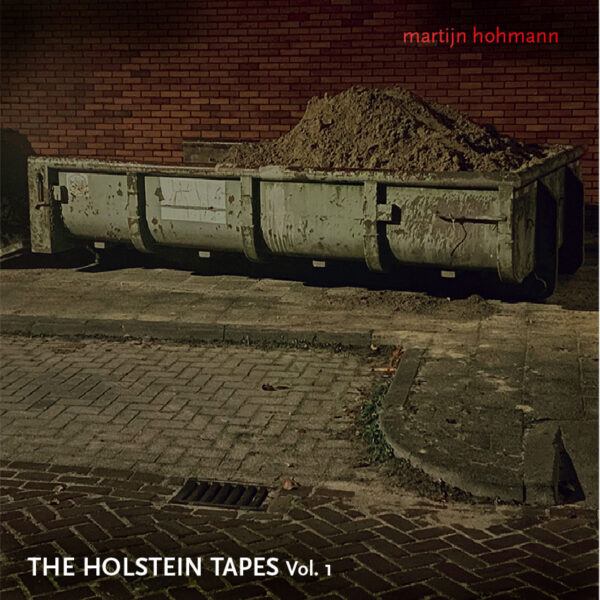 Martijn Hohmann – The Holstein tapes Vol.1
Source material was taken from the reel-to-reel tape archive of sound recorder / editor Wim van Holstein (1944-1992). Tape manipulation, processing, (soft)synths and mixing by M.Hohmann.
Released on UNIFAB TAPES April 1, 2022
UNIFAB TAPES is a joint venture of Universaalkunst and De Fabriek.
Music by Martijn Hohmann
Mastered by Nÿland at 4 & Rising
Photography by Marc Heijmans
Design by Universaalkunst
Two track C40 'Petrol blue' Audio Cassette with white on-body printing, wrapped in source tape material. Packaged in a deluxe handmade pasted box with various inserts on recycled tax envelope paper and postal relics. Limited to 50 copies, each copy different. Signed and handnumbered in gold ink.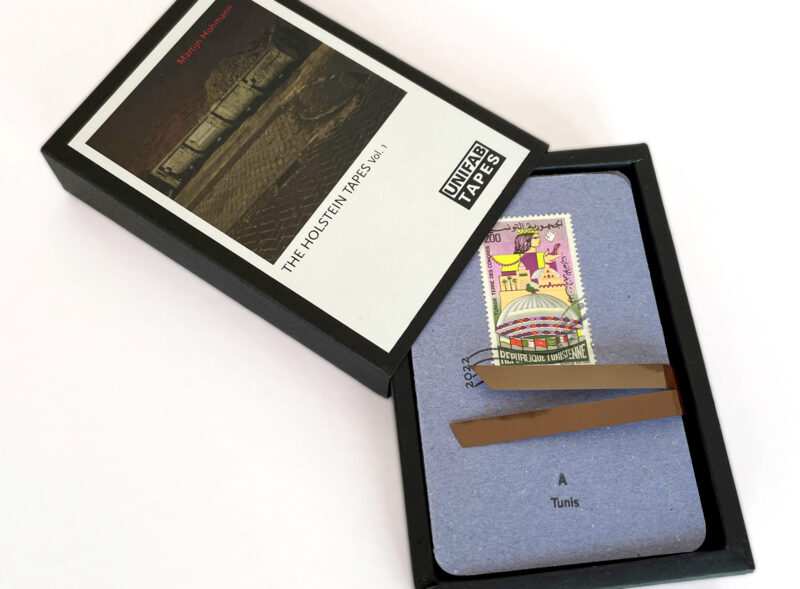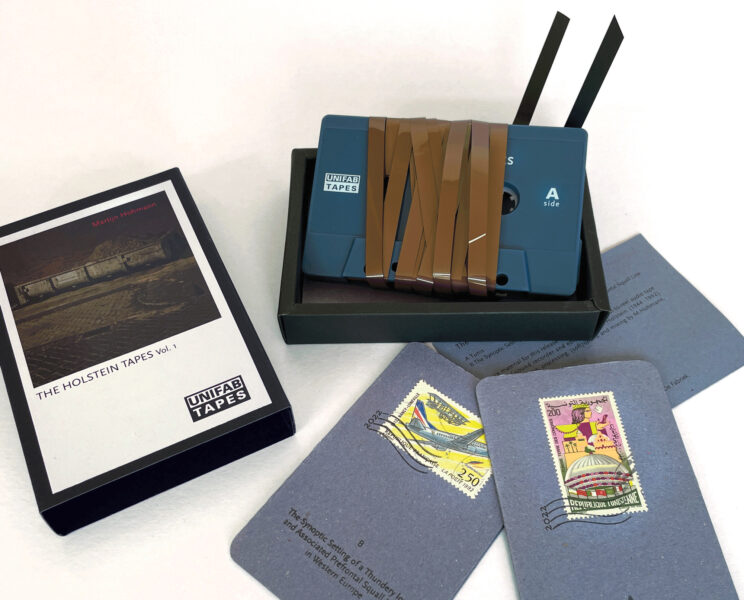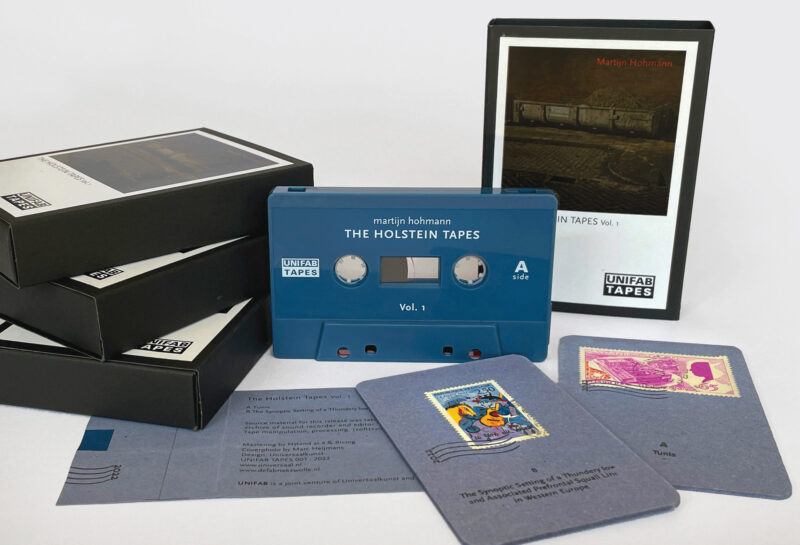 REVIEWS:
Vital Weekly
Here we have a new label, going by the name Unifab Tapes, which is a sort of combination of Universal Kunst and De Fabriek, more tying knots here. The Holstein mentioned in the title is one Wim van Holstein, a documentary sound man, and teacher at the art academy
in Breda when Martijn Hohmann was student. Van Holstein died in 1992 in a thunder storm, one of the heaviest of that decennium. A few years ago, Hohmann received a bunch of old reels from Van Holstein's widow, containing spoken word, sound and music. This is the basis of 'The Holstein Tapes', in which Hohmann uses these tapes, along with tape manipulation, processing and software synthesizers. Both sides have one long piece and in 'Tunis', I would like to think there are sounds of the city of Tunis, but I am not sure. There is some chanting, voices and sounds that have a Mediterrean character, and we have to believe Hohmann that these from Tunis. Side B has a rather poetic title, 'The Synoptic Setting of a Thundery low and Associated Prefrontal Squall Line in Western Europe'. That happens to be the title of an article about that storm that killed Van Holstein. Hohmann already surprised us with 'The Hohmann Transfer' (Vital Weekly 1232), an excellent works into the depths of dark
ambient. Here too, field recordings are used, and I assume from sources that deal with weather. As on 'Tunis', they come in a heavily processed form. The resulting big fat dark drones fit right in the world of all those lo-di drone composers that we see a lot of these days. Hohmann's music is quite a bit complexer, I would think, with more layers and perhaps better production; the fact that he had someone mastering this is another sign of taking matters seriously. Intense, atmospheric, and electricifying; these are the keywords that come to mind. (Frans de Waard, Vital Weekly 1330)
Gonzo Circus
Een rood kleurpotloodje (voor de recensent?) en een kaartje met in Frankrijk afgestempelde postzegels, zijn maar enkele van de bijlagen van deze prachtig vormgegeven cassette, verpakt in een luciferdoos. De op vijftig exemplaren gelimiteerde cassette zelf is metaalblauw en met tape omwikkeld. Uitgever van dit moois is Unifab Tapes, een samenwerking tussen Universaalkunst en De Fabriek. Met basismateriaal van geluidsman Wim van Holstein (1944-1992), softsynths en effecten maakt fabrieksmedewerker Martijn Hohmann twee boeiende en gevarieerde dronescapes van twintig minuten, doorspekt met authentieke veldopnames. Zo bevat Tunis opnames uit Tunesie (stemmen, gezangen, percussie, enzovoort) wat de track enkele momenten een feestelijk en opzwepend tintje geeft. De keerzijde is veel dreigender: we horen bewerkte opnames van voor en tijdens een hevige storm. Hier is niet meer duidelijk welke dreunen afkomstig zijn van echte donder en welke kunstmatig werden opgewekt. Halverwege valt de regen met bakken uit de hemel en neemt de dreundreiging nog toe. Deze track wordt nog zwaarder van betekenis als je weet dat Van Holstein tijdens een dergelijk onweer werd doodgebliksemd. De vreemde titel 'The Synoptic Setting Of A Thundery Low And Associated Prefrontal Squall Line In Europe' is trouwens afkomstig van een meteorologisch artikel over die fatale storm in augustus 1992. (Peter Vercauteren, Gonzo Circus juli 2022)
---