Posted on November 3, 2022
Filed Under Releases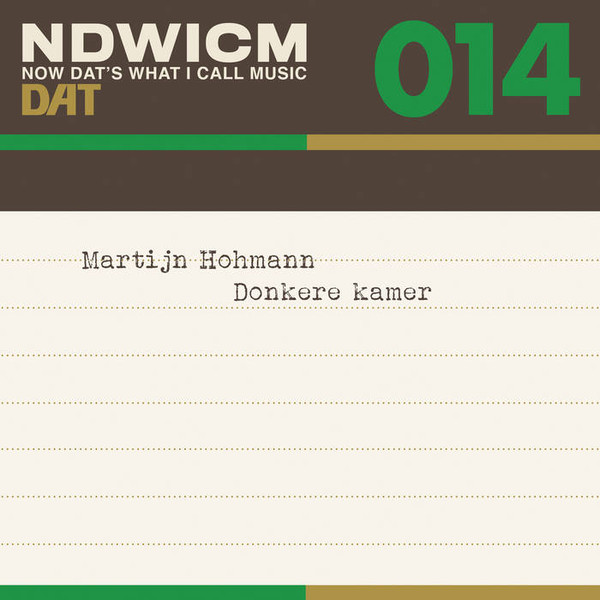 Field recordings made in Rotterdam, Breda, and Antwerp early 2022 and Groot Ammers summer 2021.
Additional processing, (soft)synths and mixing May-August 2022. All music Martijn Hohmann 2022.

Donkere kamer is a single sixty minute piece divided into five parts:
1 De Man Met De Zeiss
2 De Trein Der Traagheid
3 Sint-Anna Onder De Schelde
4 Markdal
5 Rietveld
The Label
Now DATs What I Call Music.. A new label started by Frans de Waard.
16 different DATs by 17 great musicians. Each is an edition of 17 copies.
You can buy the DAT's directly from Frans and you also get the complete music as a download or go to Bandcamp and get a shorter edit / exerpt for free. Rutger Zuydervelt did the lovely design.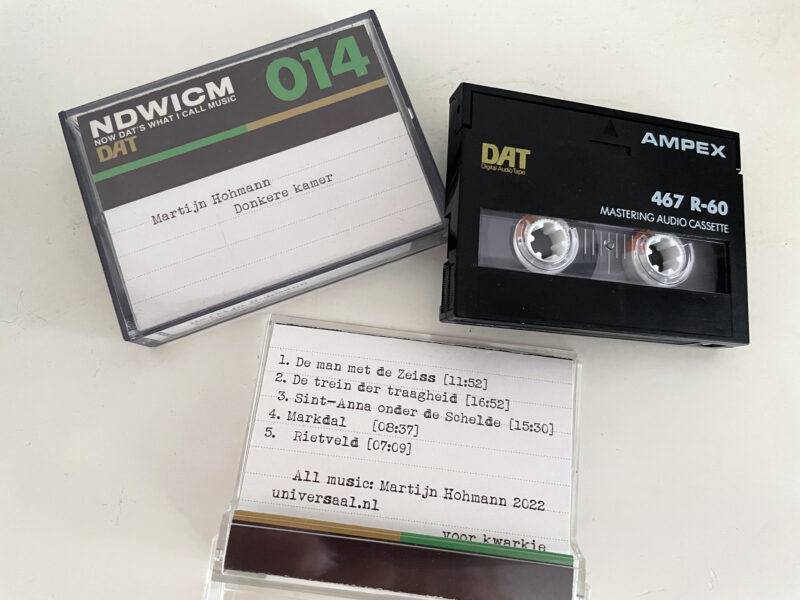 Posted on June 30, 2022
Filed Under Uncategorized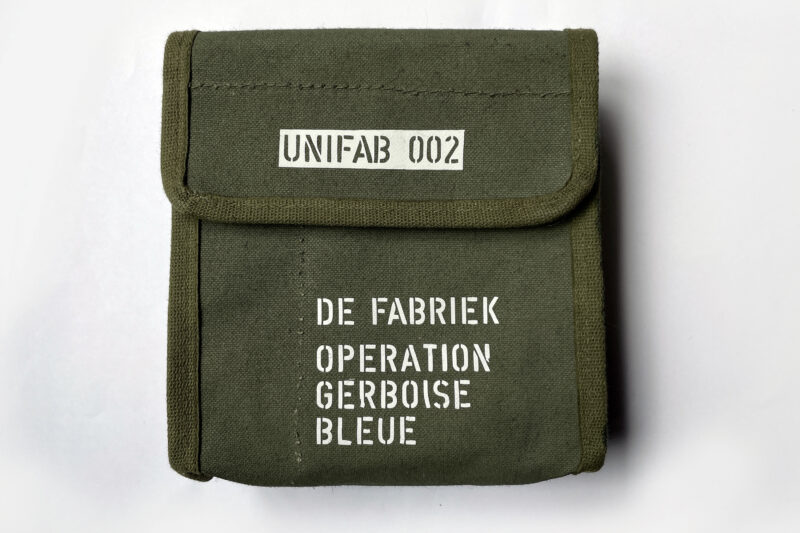 New release on UNIFAB TAPES, a joint venture of Universaalkunst and De Fabriek..
Radiant red CDr with laser-die-cut cover plus C60 Cassette, multiple inserts, a BRL radiation dosage calculator and Potassium iodide tablets. All held in a printed green canvas tactical belt pouch (so you can carry this Fabrieks release wherever you go)
Limited to 23 handnumbered copies.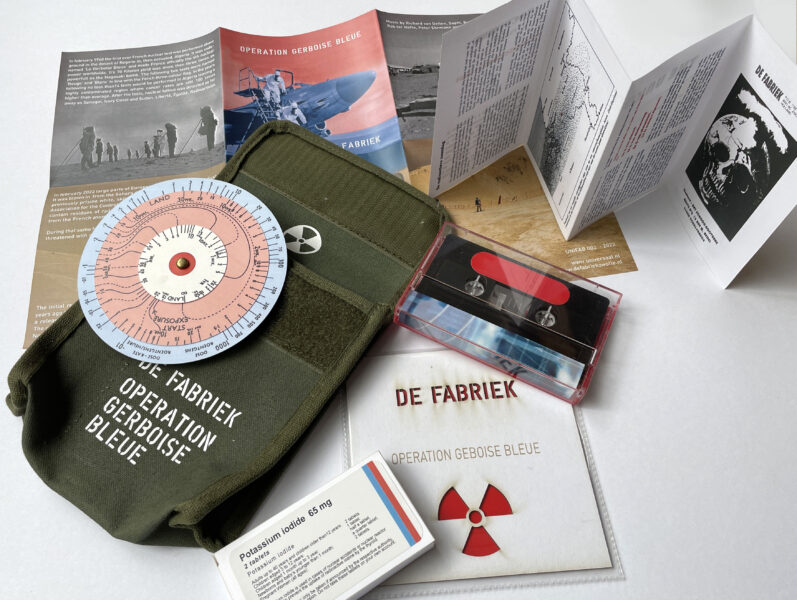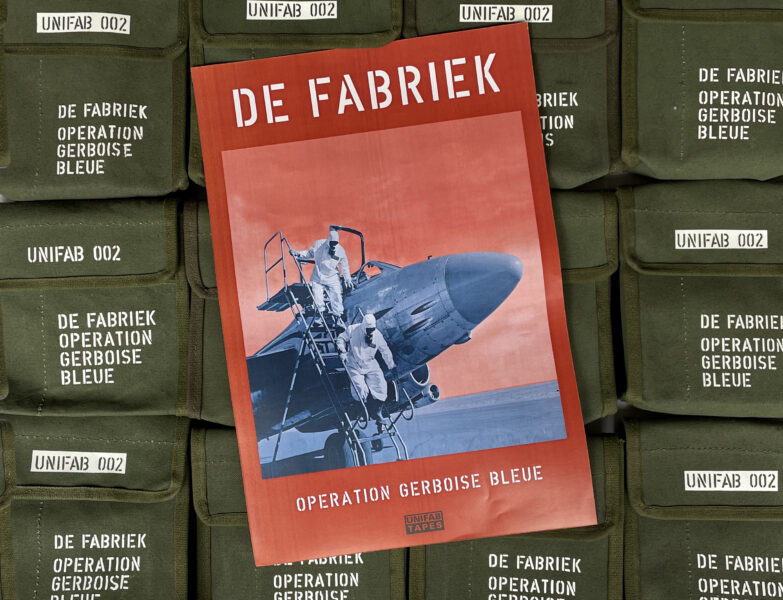 Posted on April 4, 2022
Filed Under Events, Releases, Uncategorized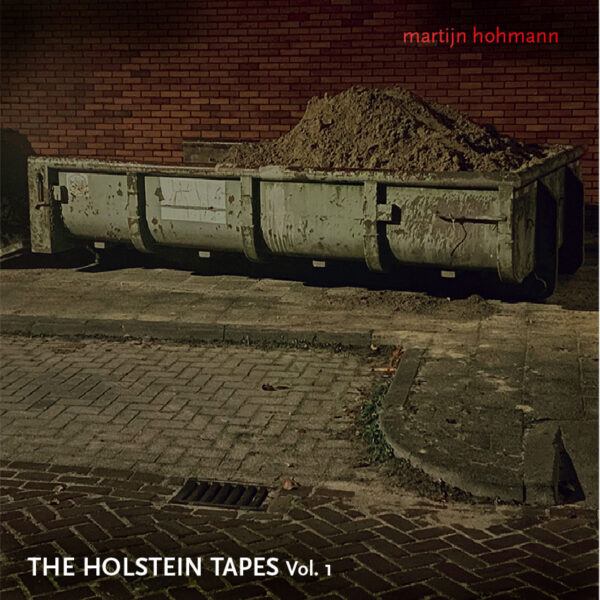 New release by Martijn Hohmann: The Holstein tapes Vol.1

Source material was taken from the reel-to-reel tape archive of sound recorder / editor Wim van Holstein (1944-1992). Tape manipulation, processing, (soft)synths and mixing by M.Hohmann.
Released on UNIFAB TAPES April 1, 2022
UNIFAB TAPES is a joint venture of Universaalkunst and De Fabriek.

Music by Martijn Hohmann
Mastered by Nÿland at 4 & Rising
Photography by Marc Heijmans
Design by Universaalkunst
Two track C40 'Petrol blue' Audio Cassette with white on-body printing, wrapped in source tape material. Packaged in a deluxe handmade pasted box with various inserts on recycled tax envelope paper and postal relics. Limited to 50 copies, each copy different. Signed and handnumbered in gold ink.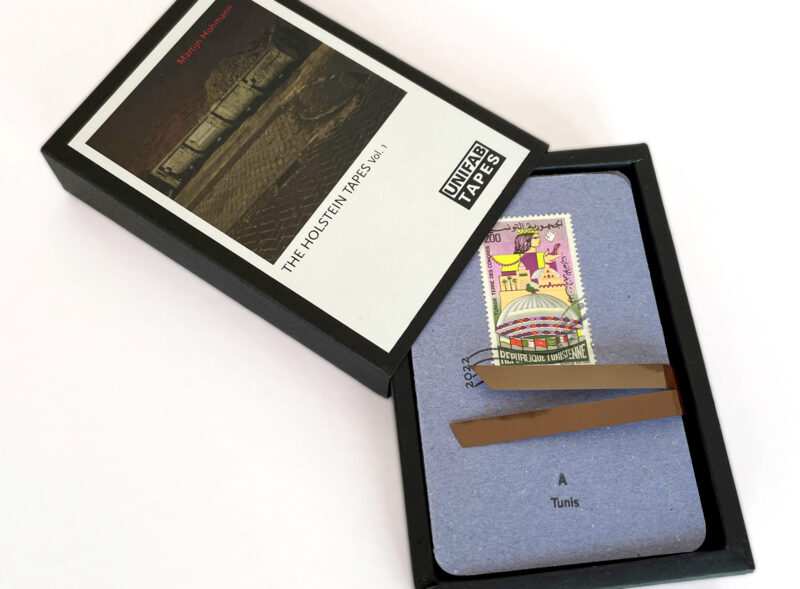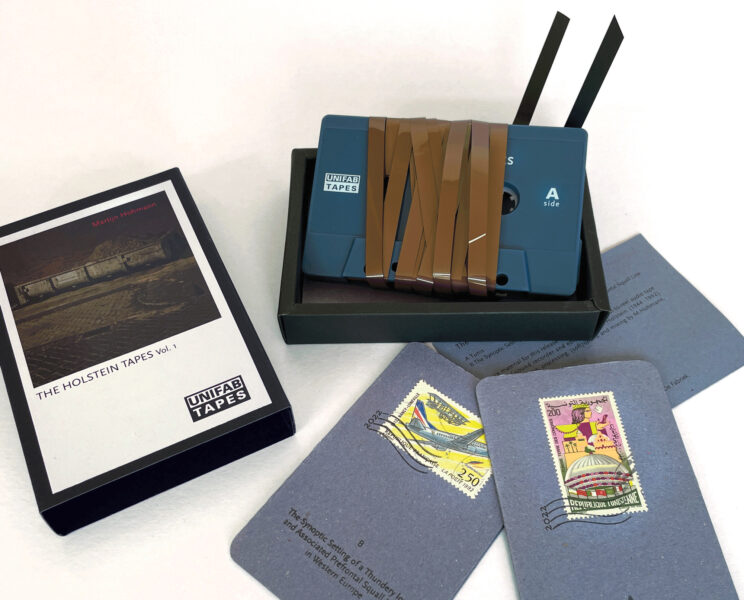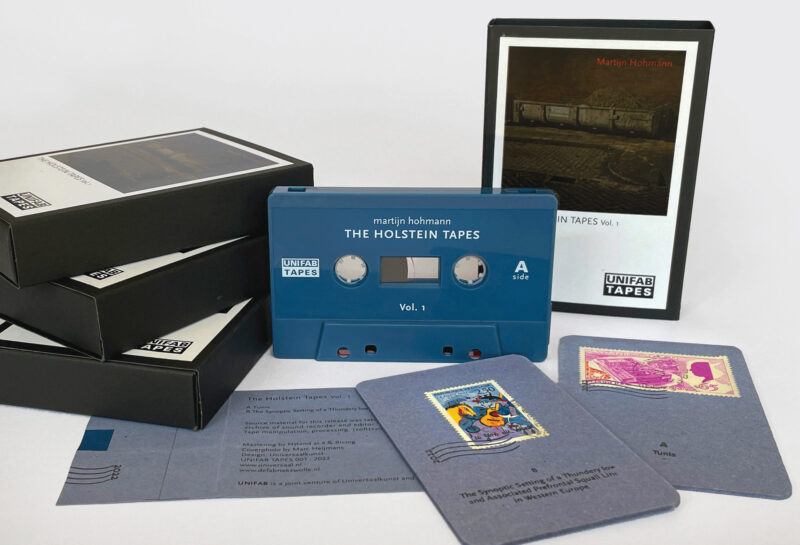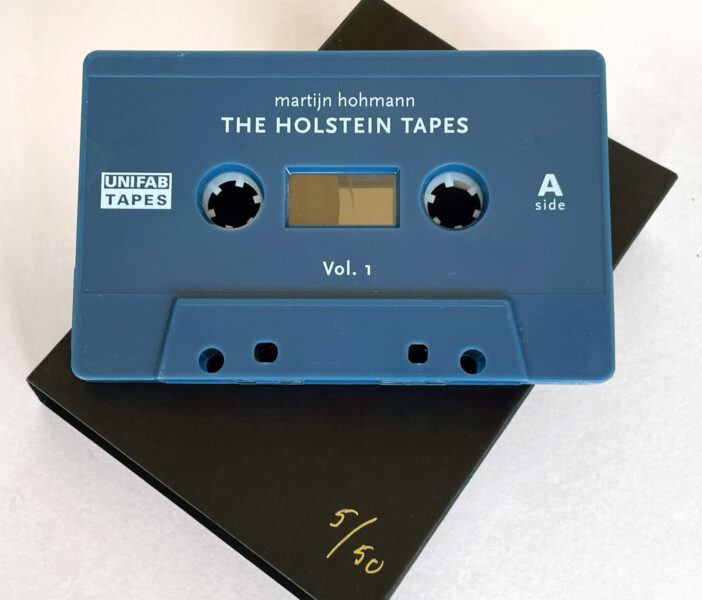 Posted on April 4, 2022
Filed Under Events, Uncategorized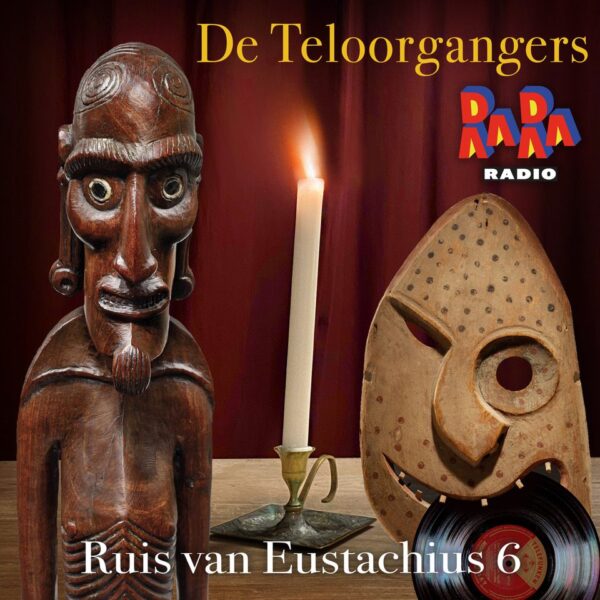 rararadio.org
Ma 04-04-2022 van 20:00 tot 22:00
#electronic #experimental #drone #outsider #noise #uneasy listening
nu te beluisteren op mixcloud
Henry Purcell – The Queen's Funeral March (Procession), March for the funeral of Queen Mary – 1695
Lingua Ignota – Butcher of the World, Caligula – 2019
Yosuke Fuj||ita – KŌMORI 2, KŌMORI – 2020
Psychic TV – The Orchids, Dreams Less Sweet 1983
Swalm – Dadoa I, Dadoa – 2022
Coil – Indolol,3-[2-(Dimethylamino)Ethyl]_ Phosphate Ester, Time Machines – 1998
Vance Orchestra – Squeak Taps in Response, The E emission – 2002
Rechenzentrum – Vertikal, The John Peel Sessions – 2001
Prurient – Greenpoint, Frozen Niagara Falls – 2015
De Fabriek – Harrisburg, Blecheintopf – 1982
Clock DVA – Connection Machine, Buried Dreams 1989
Techno Animal – Cruise Mode 101, Brotherhood of the Bomb – 2001
Herbie Man – Memphis Underground, Memphis Underground 1969
Pierre Henry – La Noire À Soixante, La Noire À Soixante + Granulométrie – 1967
Lasse Marhaug & Jérôme Noetinger – Trk3_GS_GO, Top – 2022
Anne Gillis – Appel à Base, <<…>> – 2021
Maja Ratkje – En træflis å tygge på, Sult 2019
Gabor Lazar – Boundry Object VI, Boundry Object – 2022
Duma – Cannis, Cannis 2021
Dyane Donck – Irredeemable 2013
De Fabriek – Nicht So sein wie de Wayne, Schuurpapier – 1980
Chris & Cosey – Re education through labour, Trance – 1982
Merzbow – Takemitsu, Amlux – 2002
The Swans – Thank you, Filth – 1983
Penny Rimbaud – Somewhere over the Rainbow, Corpus Mei – 2021


Posted on February 22, 2022
Filed Under Uncategorized
rararadio.org
Ma 21-02-2022 van 20:00 tot 22:00
#electronic #experimental #drone #outsider #noise #uneasy listening
nu te beluisteren op mixcloud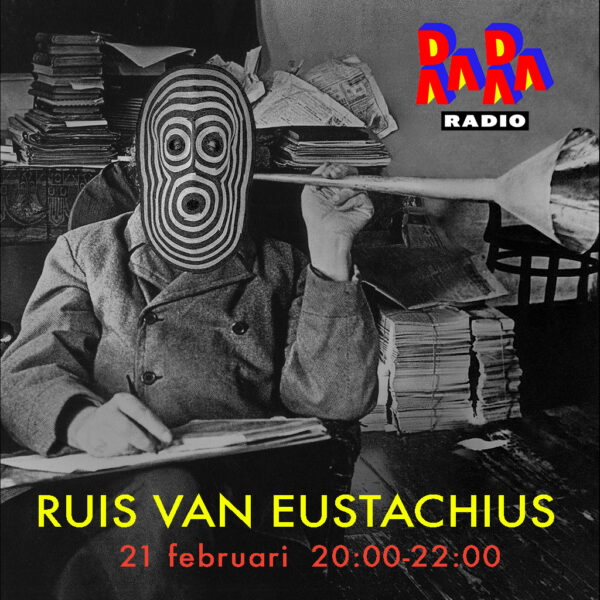 Aaron Dilloway & Lucrecia Dalt – Both Blue Moons, Lucy & Aaron 2021
Paul Giovanni – Fire leap, The wicker man OST 1973
Gazelle Twin & NYX ‎– Fire Leap, Deep England 2021
Jos Smolders – interlude 5, Submerge-Emerge – 2021
Biosphere – Formanta, Shortwave Memories 2022
Telefon Tel Aviv – I dream of it often, Dreams Are Not Enough – 2019
Preliminary Saturation – Weltraumförscher, You are the Universe – 2018
Jarra – Iso Monads 2, Iso Monads – 2019
Aphex Twin – piano un10 it happened, Computer Controlled Acoustic Instruments pt2 EP
Rudolf Eb.Er – Ziegenblut Kommunion 8, Goat Blood Communion – 2022
Lambert Deemsterhede – Crackle, Demo 2003
Andy Stott – Execution, Passed Me By – 2011
Shit & Shine – Backstage Passes, Bad Vibes – 2018
Ghedalia Tazartes – Novita, Coda Lunga- 2012
Brain Eno & David Byrne – Mea Culpa, My Life In The Bush Of Ghosts – 1981
De Fabriek+PFunk – Untitled, Music For Hippies 2021
Ron Morelli – Radar Version, Spit – 2013
Oorjak Hunashtaar-ool – Reka Alash, Throat Songs And Folk Tunes From Tuva – 1969
Scorn – Twitcher, Zander – 1997
De Fabriek + Ausland – Untitled, L' Usine À L' Etranger – 2021
Paul Weller – Submerge, In Another Room 7″ 2020
Bogdan Raczynski – LADDE, ADDLE – 2022,
Marien van Oers – Blue Room Nr. 01-08, Compilatie Blue Room – 2013
Het Zweet – Indus 1, 6×10=60
Dave Philips – La Chienne 7, A collection of fingers – 2016
David S. Ware – Glorified Calypso , Surrendered – 2000
Idea Fire Company – Heroes, Stranded – 2004
Nurse With Wound – Orgasm Mix, Orgasm 2017
Posted on January 25, 2022
Filed Under Uncategorized
rararadio.org
Ma 24-01-2022 van 20:00 tot 22:00
#electronic #experimental #drone #outsider #noise #uneasy listening

Nu te beluisteren op Mixcloud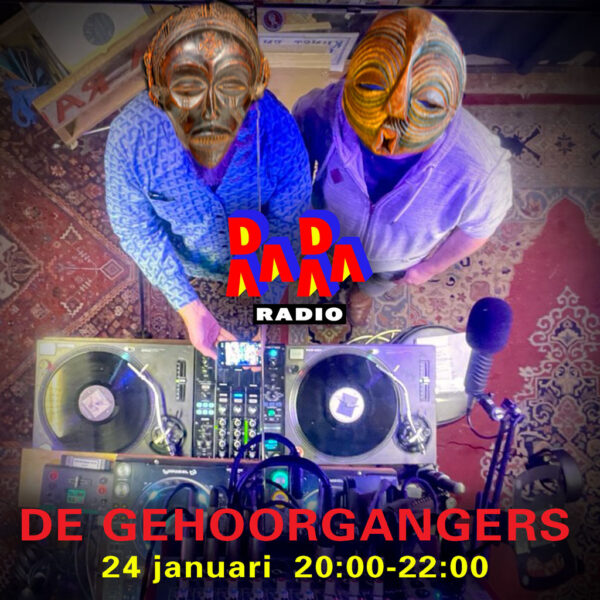 playlist:
Unknown artist – Bao Zoo 2 | Ethnic minority Music from N. Vietnam 2007
All Against Logic + Lydia Lunch – If You Can't Do It Good, Do It Hard | 2017 – 2019 2020
:Zoviet*France: – Nachtmaal | Just an Illusion 1990
Asmus Tietchens – Bleichen Brunnen | Aus Bleichen Brunnen 2020
The Bug & Earth – Gasoline | Concrete Desert 2017
Scorn – Boss | Plan B 2002
Pierre Bastien – Eye | POP – 2005
Coil – Triple Sun | The Ape Of Naples 2005
The Boredoms – Moonsidal Cendencies | Vision – Creation – Newsun 1999
The New Blockaders – A | Changez Les Blockeurs 1982
Schackleton: Shimmer, Then Fade | Departing Like Rivers 2021
MB: Untitled 1 | Gene-P 1980
Drahomira Song Orchestra – Ein Bisschen Sauvagerie | The Return Of 120 Magicians 2016
Daniel Bachman – Big Summer | Axacan 2021
Aiki Onda – Voice | Audiosphera Compilation 2003
Demdike Stare – Animal Style | Wonderland 2016
Martijn Hohmann – Lithosphere | As yet Untitled 2022
Iannis Xenakis – Bohor 1 | Electronic Music 1962
Blanck Mass – Loam | Dumb Flesh 2015
Stephan Mathieu – Fur Frans | Frequency Lib 2001
Gary Wilson – 6.4 is Make Out | You think you really Know me 1979
Pere Ubu – Codex | Dub Housing 1979
Sons of Khemet – Pick up Your Burning Cross | Black to the future 2021
Temporal Marauder – Llissa's Lament | Temporal Marauder Makes You Feel 2011
Manorexia – Canaries in the mineshaft /Edison Medicine | The radiolarian Ooze 2003
Nurse with Wound – Coolorta Moon | Coolorta Moon 1992
Ulver – Teachings in Silence | Darling Didn't we Kill you? 2002
Madteo – 6AM | Dropped out of Sunshine 2019
Massimo – Hello Dirty 12 | Hello Dirty 2002