Posted on July 11, 2023
Filed Under Releases, unifab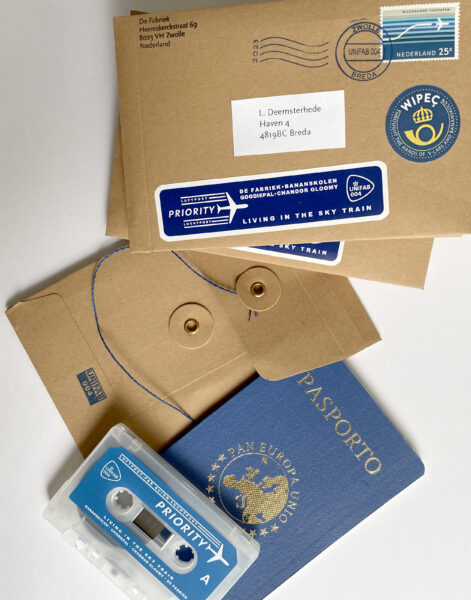 UNIFAB 004 released July 1, 2023

C90 Audio Cassette with priority mail labels and a Esperanto Pan European Union Passport stamped with credits. All packed in a stickered and stamped manilla rivet string envelope. Handmade & limited to 50 numbered copies. Each copy is personalised with the buyers name and address on the cover
For this release De Fabriek were: R.van Dellen, M. Hohmann, C. Jenkins, P. Pet and L.Mossing.
Mixed by Martijn Hohmann and Richard van Dellen, design by Universaalkunst.
UNIFAB TAPES 2023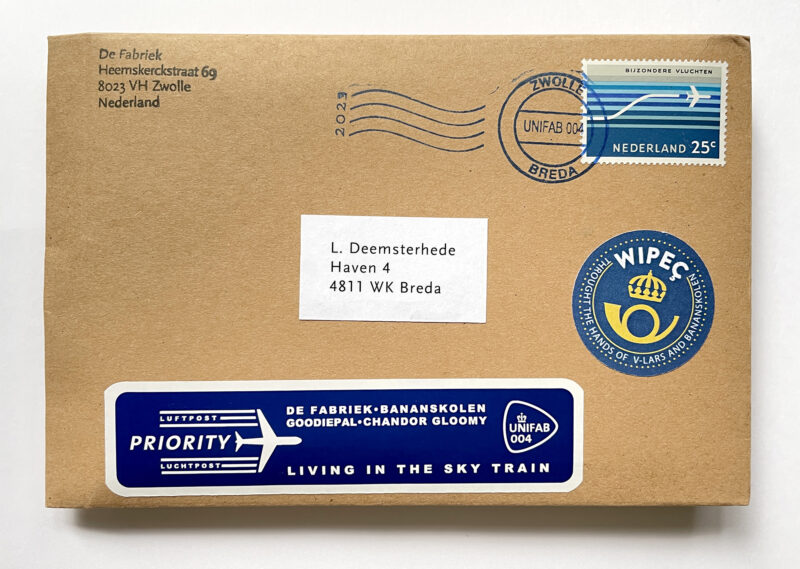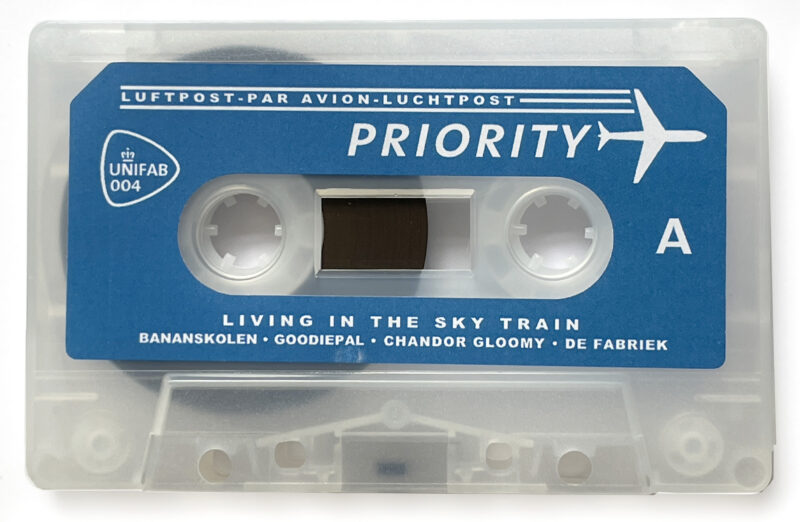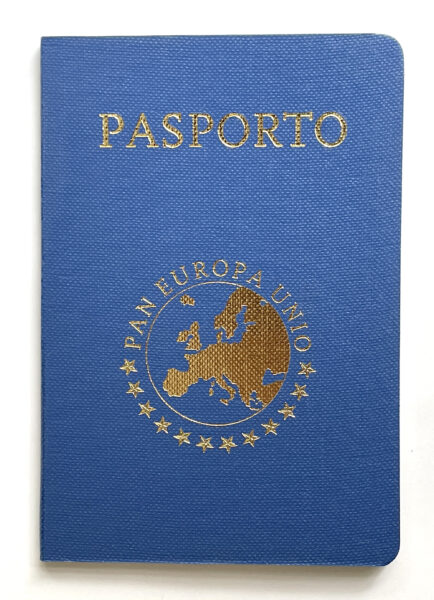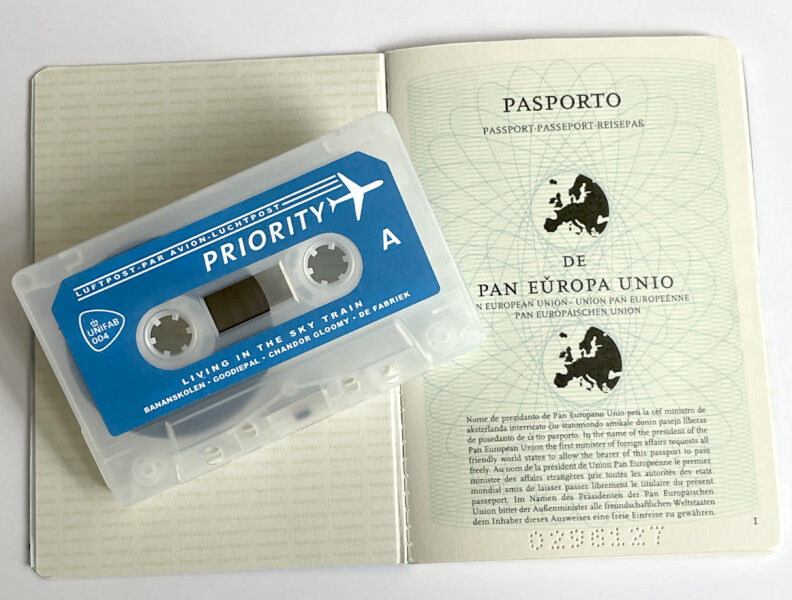 Review Vital Weekly 1394
DE FABRIEK / WIPEÇ & GOODIEPAL / CHANDOR GLOOMY – LIVING IN THE SKY TRAIN
There are many cassette labels worldwide, especially in our musical universe, yet very few do anything exciting with packaging. UNIFAB is the exception. This new one comes in a paper envelope, with my name on it, like a proper envelope, an old paper envelope with an ever older Dutch stamp, a passport for the Pan European Union, complete with stamps by the various groups (no photo from me though!) and the cassette looks like one of those old cassette Dutch posts at one point to send an audio letter. Very neat and very professionally made. This is what it says about the music; "Music by De Fabriek, Wipeç (through the hands of V-Lars and Bananskolen, delivered by Goodiepal) and Chandor Gloomy. For this release, De Fabriek were: R.van Dellen, M. Hohmann, C. Jenkins, P. Pet and L. Mossing. Mixed
by Martijn Hohmann and Richard van Dellen". It is never easy with cassettes to tell the difference between the tracks, but in this case, there are no gaps, and it's all one long stream of sound. So what the input is by De Fabriek, Wipeç, or Chandor Gloomy is hard to say, even when I believe to hear some of Goodiepal's trademark electronics and maybe, some of Gloomy's more noise-oriented work. The tape is long, ninety minutes in total. It takes the listener on an extensive journey, from mild noise to drones, 'silly' electronics, rhythm, techno-like bits, ethnic samples, obscure loops, and the only thing missing is, perhaps, a jolly melody. The melodies here are a bit too weird to be a pop song. Everything is moving about, and one goes from one thing to the next; imagine you're walking on a sunny road, take a left turn, and it's raining; take a right turn to find some snow; you never know what happens next. Only towards the end, the music stays a bit longer in one place, which is a
slightly more noisy/drone thing. The music reflects De Fabriek's history quite well. Over the past 40+ years, they have created music in wildly varied musical genres (not heavy metal or country, but you get my drift). Techno, ambient, noise, and, this time, all combined into a long tape to celebrate the 'anything go' principles. (FdW)
Posted on February 21, 2023
Filed Under Events, Releases, Uncategorized
The initial DAT tapes have sold out at 'Now DAT's What I Call Music'
Re-release of Donkere Kamer on black dye CDr. Limited to 50 copies .
Housed in a photographic paper style cardboard envelope witn in inserts and photos in a lighttight black inner bag.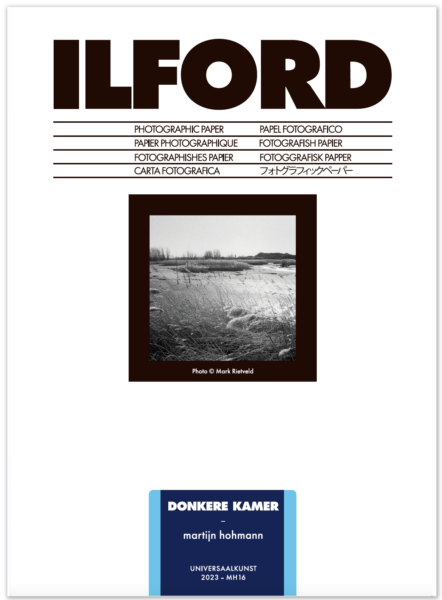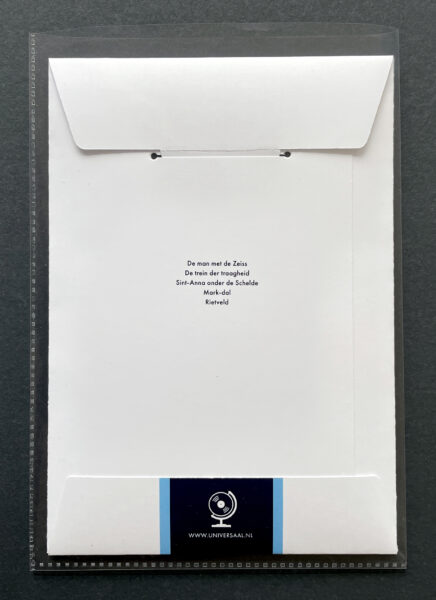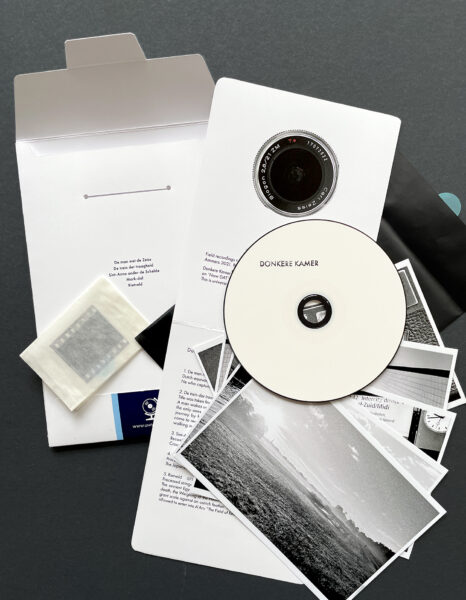 Posted on February 21, 2023
Filed Under Events, Releases, Uncategorized
Over a year in the making and finaly done..
12″ anti-record multiple with mini CDr.
This 3 mm thick lasercut and engraved acrylic Anti Record is playable and ends in a locked groove.
This is not a regular cut or pressed record but the grooves have been engraved using a lasercutter.
Playback at own risk, we are not responsible for the unlikely event of damage to your cartridge or stylus.
The mini CDr contains an edited version of the track Cryosphere which is taken from the forthcoming album Gaandeweg. Soundsources are processed recordings of melting ice, fighting ants and this 12″ record object. Limited to 12 numbered and signed copies.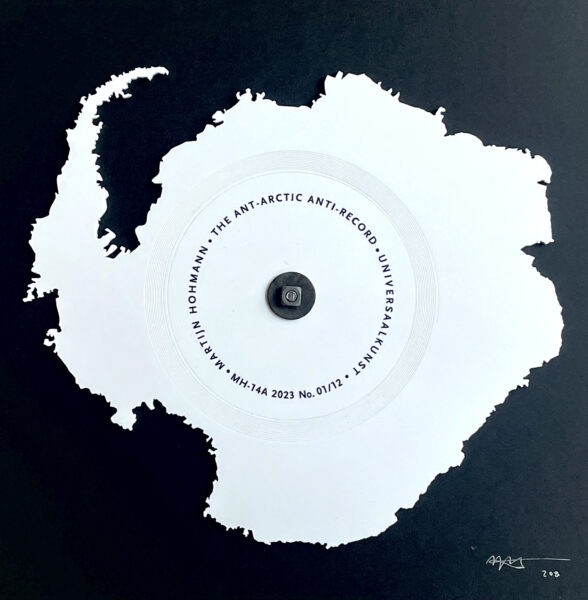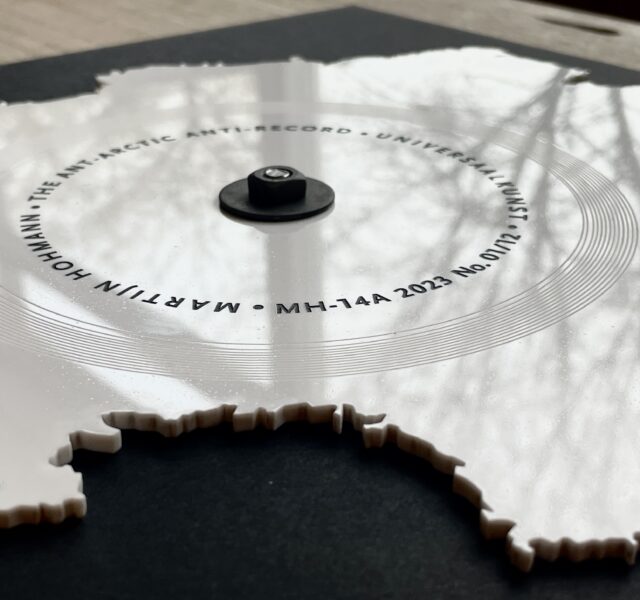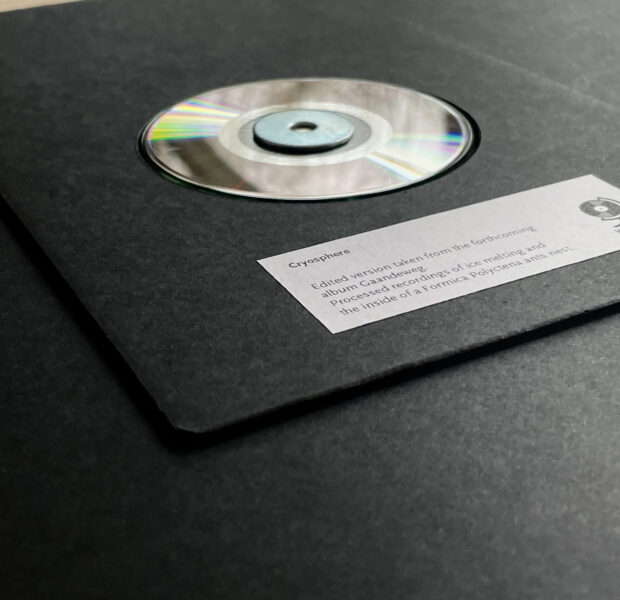 Posted on January 13, 2023
Filed Under Events, Releases
Brand new CD release entitled 1987 by Francisco López on Universaalkunst.

Limited to 150 copies, housed in a night-blue folder style sleeve, signed and numbered.
Only 75 up for sale.
OUT NOW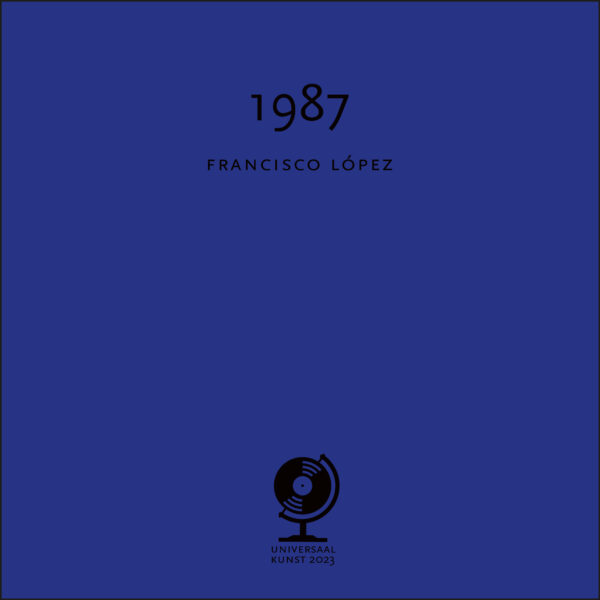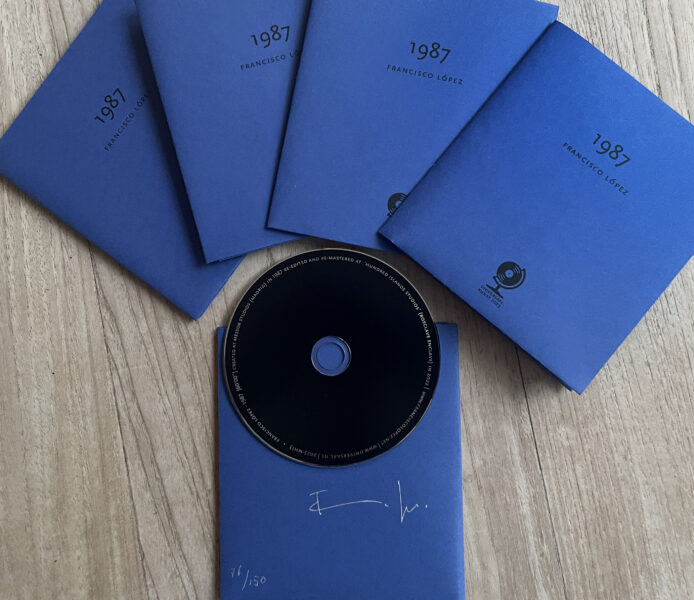 Posted on November 3, 2022
Filed Under Releases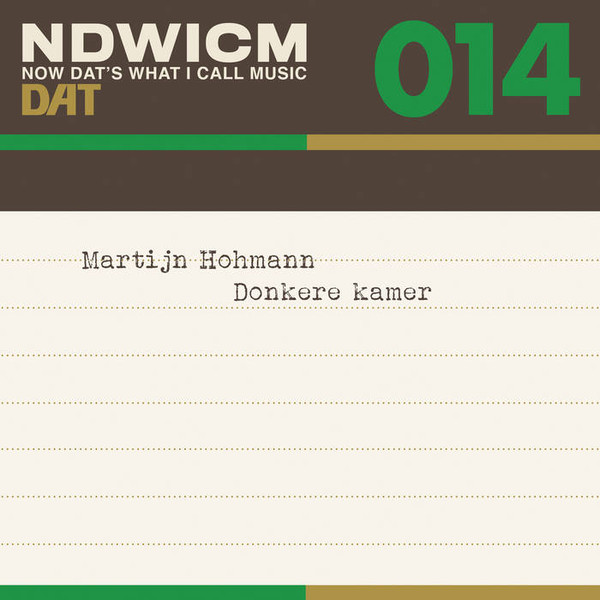 Field recordings made in Rotterdam, Breda, and Antwerp early 2022 and Groot Ammers summer 2021.
Additional processing, (soft)synths and mixing May-August 2022. All music Martijn Hohmann 2022.

Donkere kamer is a single sixty minute piece divided into five parts:
1 De Man Met De Zeiss
2 De Trein Der Traagheid
3 Sint-Anna Onder De Schelde
4 Markdal
5 Rietveld
The Label
Now DATs What I Call Music.. A new label started by Frans de Waard.
16 different DATs by 17 great musicians. Each is an edition of 17 copies.
You can buy the DAT's directly from Frans and you also get the complete music as a download or go to Bandcamp and get a shorter edit / exerpt for free. Rutger Zuydervelt did the lovely design.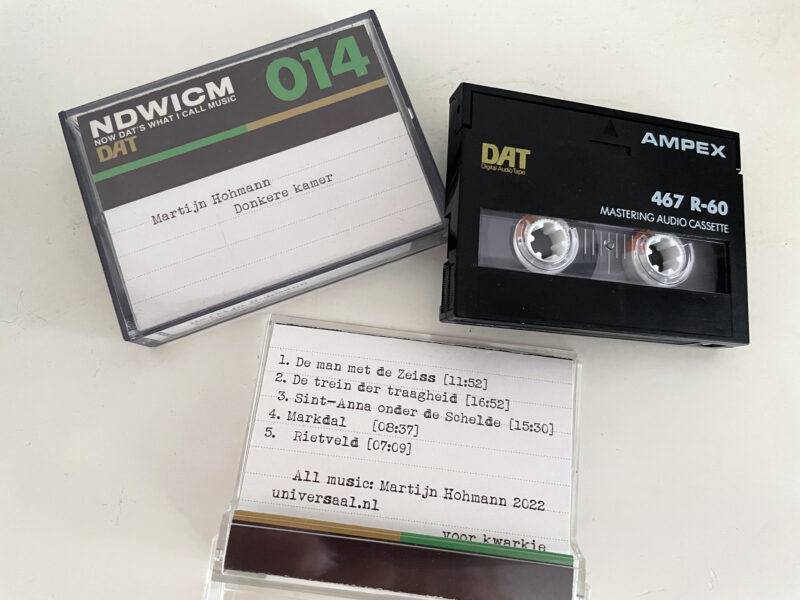 Gonzo Circus review:

Martijn Hohmann – Donkere Kamer
NOW DATS WHAT I CALL MUSIC
Op invitatie van Korm Plastics werden zestien DAT-tapes gerecycleerd (door artiesten als Radboud Mens, Orphax, Modelbau, Vertonen, enzovoort) en zo een vreselijk lot in de afvalcontainer bespaard. Slechts vijftien exemplaren van elke release worden te koop aangeboden, maar gelukkig wordt het geluid ook digitaal verkrijgbaar gemaakt. DAT nummer veertien draagt onze bijzondere aandacht weg: het is immers een eerbetoon aan Mark Rietveld, de fotograaf (Het Bos en Gonzo (circus)) die in juli 2022 op tweeënvijftigjarige leeftijd uit het leven stapte. Veldopnamen en softsynths vormen vijf dreunende klanklandschappen en dragen titels die allemaal naar de dood verwijzen. Soms nadrukkelijk ('De Man Met De Zeiss'), een andere keer via een literaire of biologische en taalkundige omweg. Martijn Hohmann (De Fabriek) maakte onder andere opnames in de voetgangerstunnel onder de Schelde, toen hij er in gezelschap van Rietveld naar een concert wandelde. Er zijn ook subtiele kikkergeluiden te horen uit een natuurreservaat in Breda, en de zachte afsluiter bevat opnames gemaakt in een rietveld in de polders. Tussen het ruisende riet en de watergeluiden echoot een treurmars van drones. Dit is natuurlijk een prachtige laatste groet, maar ook zonder inhoudelijke voorkennis is 'Donkere Kamer' een sterke en knap uitgebalanceerde release. (pv)
Posted on June 30, 2022
Filed Under Events, Releases, unifab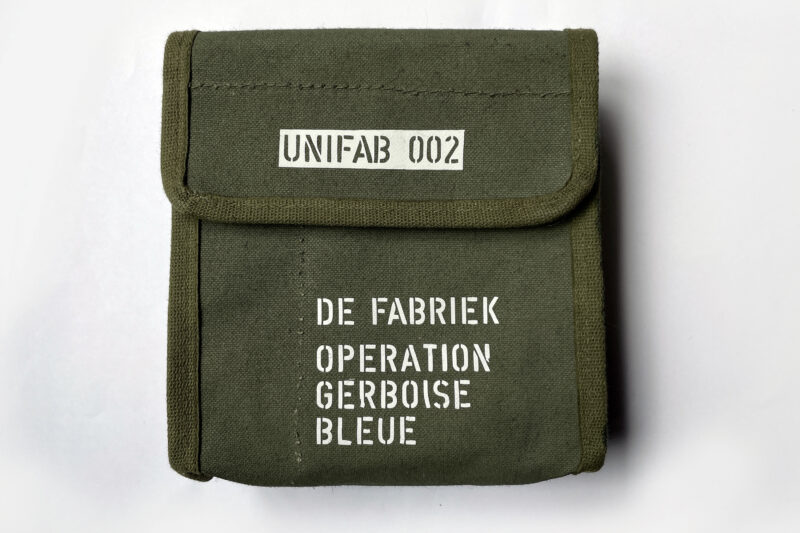 New release on UNIFAB TAPES, a joint venture of Universaalkunst and De Fabriek..
Radiant red CDr with laser-die-cut cover plus C60 Cassette, multiple inserts, a BRL radiation dosage calculator and Potassium iodide tablets. All held in a printed green canvas tactical belt pouch (so you can carry this Fabrieks release wherever you go)
Limited to 23 handnumbered copies.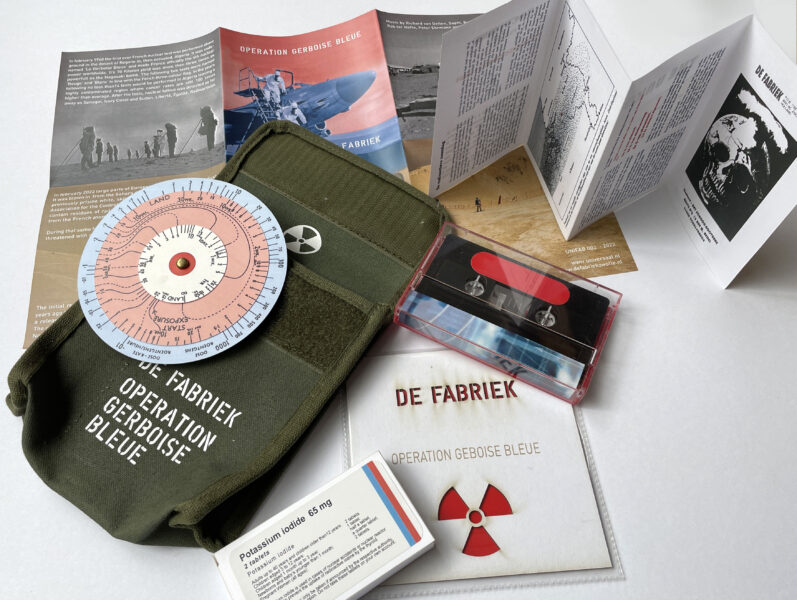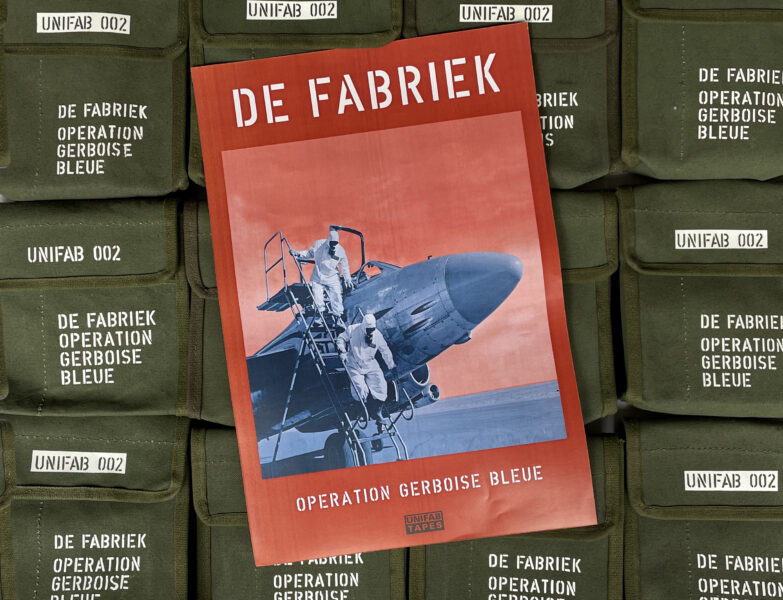 Posted on April 4, 2022
Filed Under Events, Releases, Uncategorized, unifab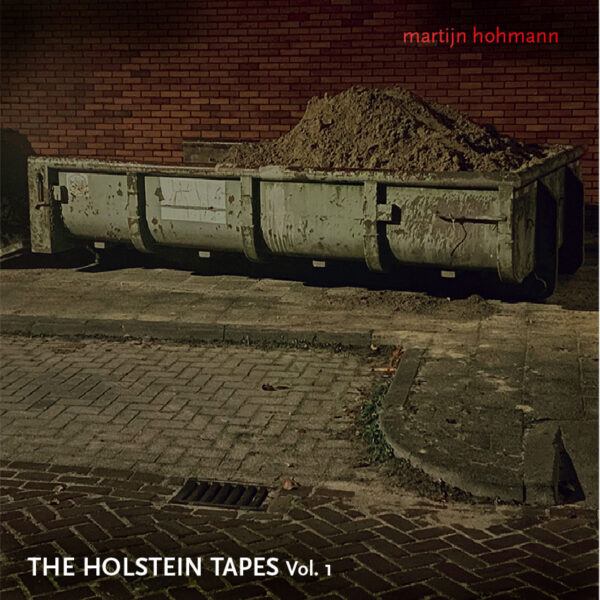 New release by Martijn Hohmann: The Holstein tapes Vol.1

Source material was taken from the reel-to-reel tape archive of sound recorder / editor Wim van Holstein (1944-1992). Tape manipulation, processing, (soft)synths and mixing by M.Hohmann.
Released on UNIFAB TAPES April 1, 2022
UNIFAB TAPES is a joint venture of Universaalkunst and De Fabriek.

Music by Martijn Hohmann
Mastered by Nÿland at 4 & Rising
Photography by Marc Heijmans
Design by Universaalkunst
Two track C40 'Petrol blue' Audio Cassette with white on-body printing, wrapped in source tape material. Packaged in a deluxe handmade pasted box with various inserts on recycled tax envelope paper and postal relics. Limited to 50 copies, each copy different. Signed and handnumbered in gold ink.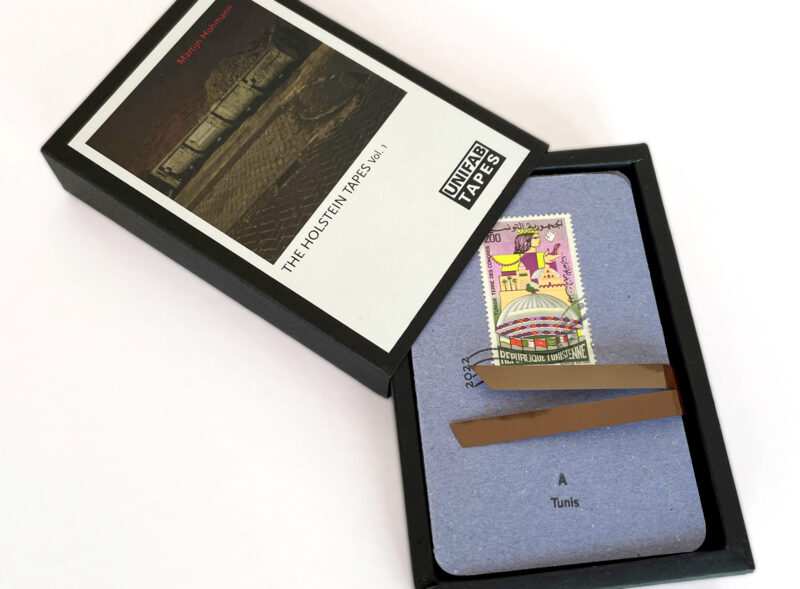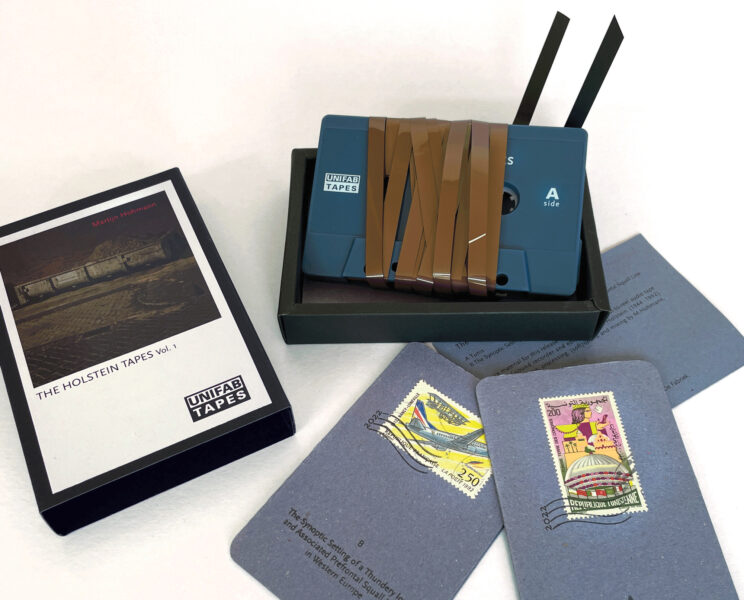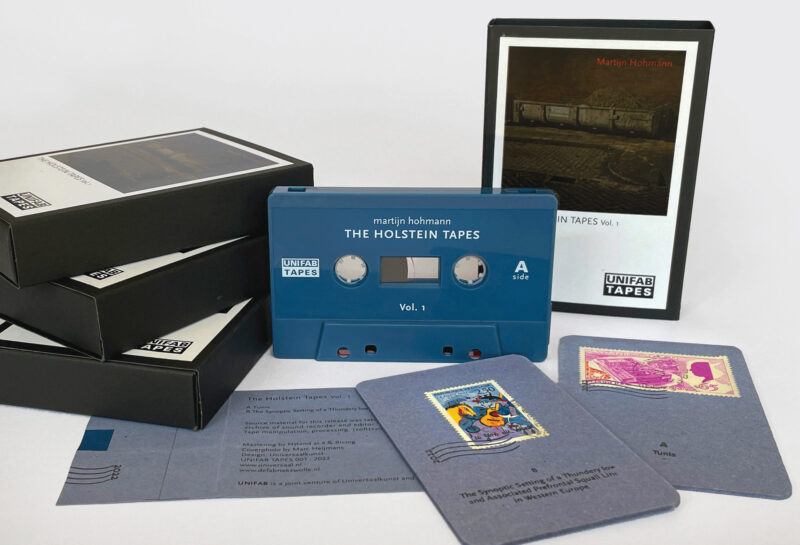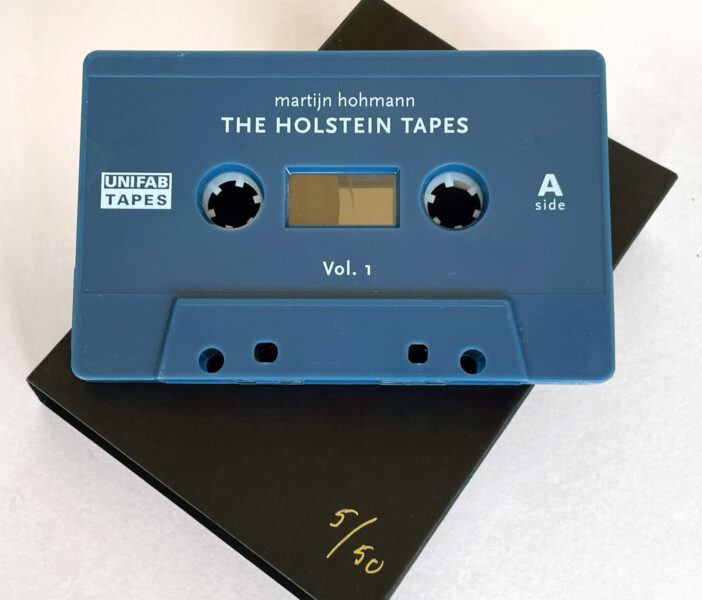 Posted on April 15, 2021
Filed Under Releases, Uncategorized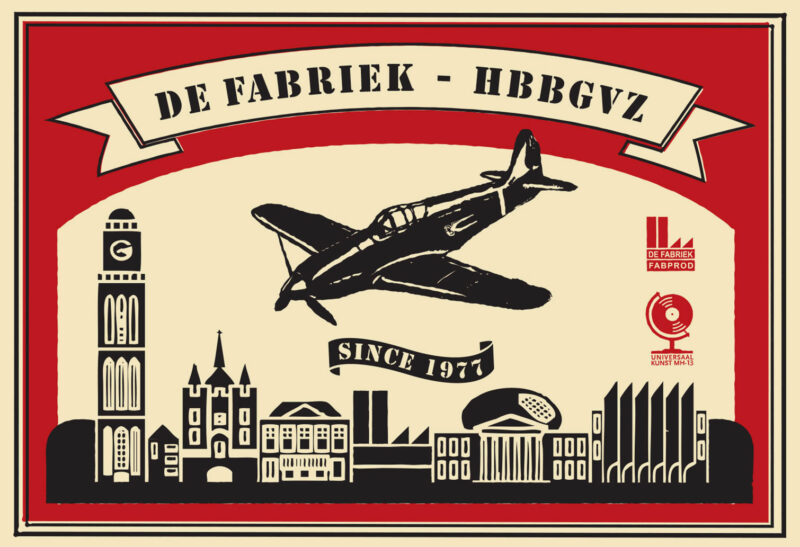 Het Best Bewaarde Geheim Van Zwolle is a brand new release by De Fabriek is housed in a beautifully designed matchbox style packaging which slides open to reveal a fluorecent green cassette accompanied by several inserts and items. 50 copies were made only 25 will be up for sale starting friday april 16th: https://universaalkunst.bandcamp.com/album/hbbgvz
update: this has now sold out.
De Fabriek hails from the Dutch City of Zwolle and started in december 1977 as a collective project.
Currently De Fabriek consists mainly of Richard van Dellen and Louise Nanuru and, in the style of a workers collective, works together with numerous musicians and artists (workers) providing a line-up that changes almost every release.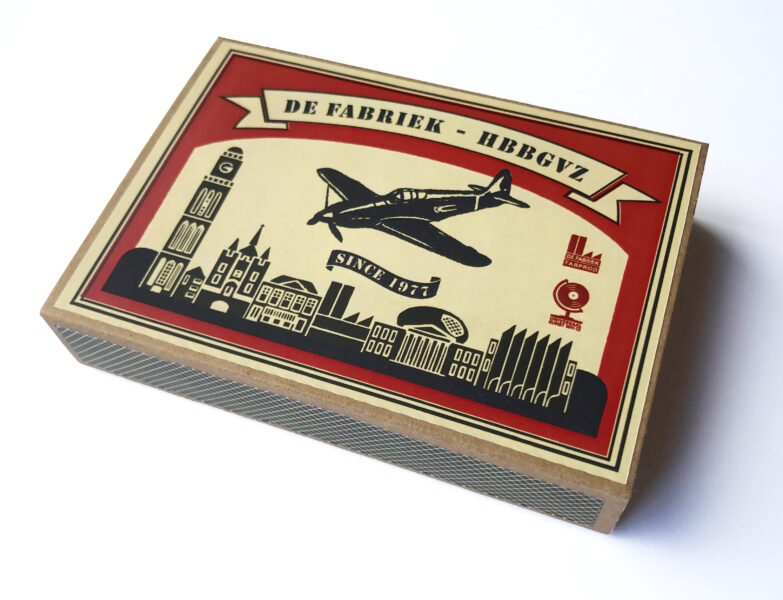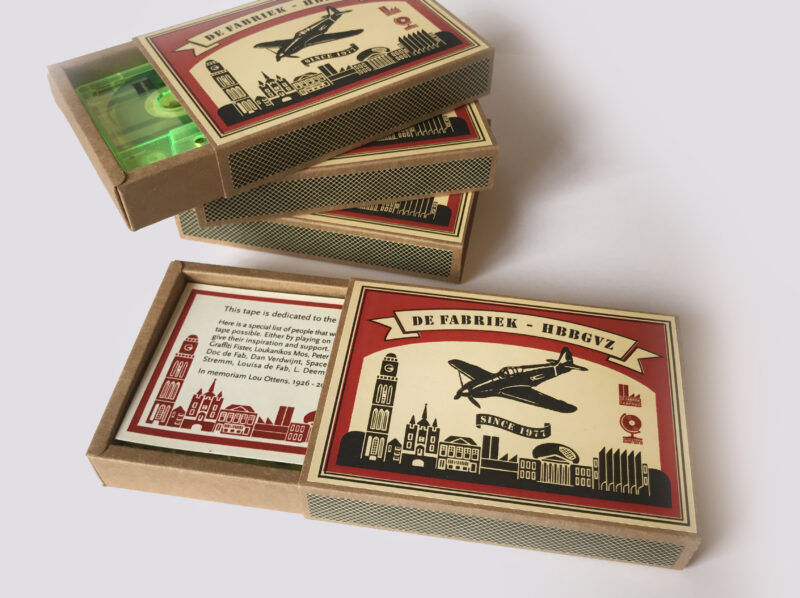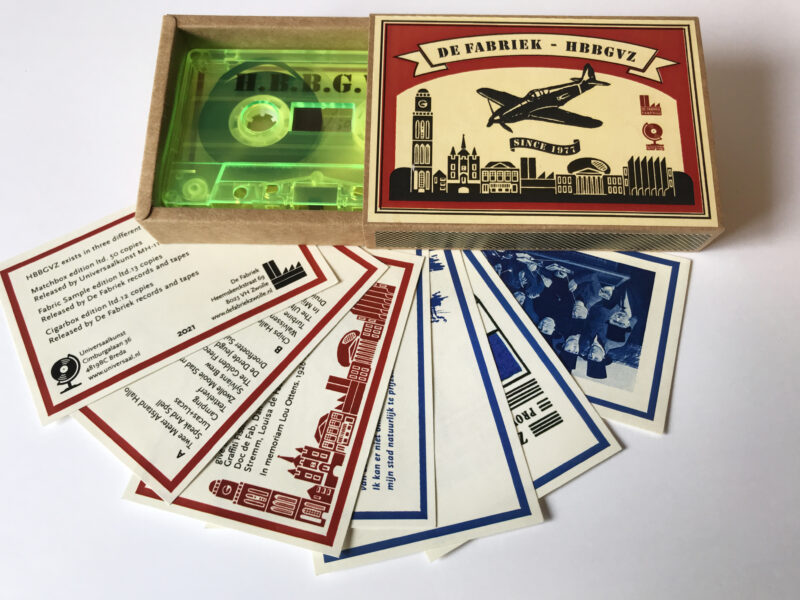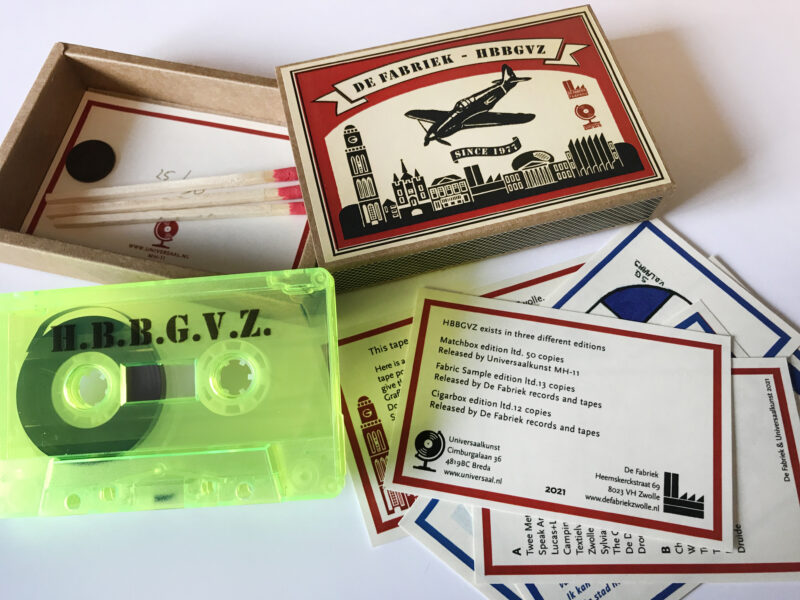 Besides this version Matchbox version there are also two home/hand made versions, home duped on recycled cassettes and every copy slightly different.
Cigarbox version ltd 12 copies and a Textile Sample edition ltd 13 copies
Posted on February 23, 2021
Filed Under Events, Releases, Uncategorized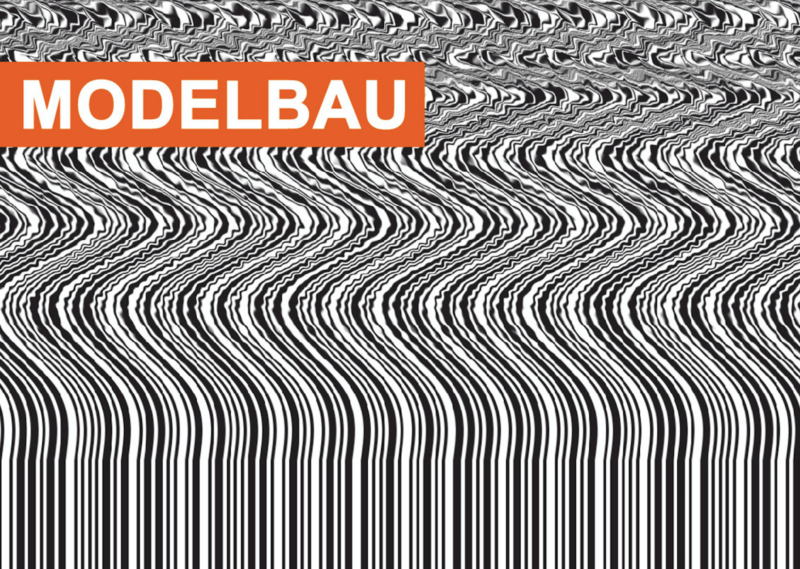 Modelbau is Frans de Waard who has been on the forefront of the Dutch experimental music scene for decades and has been involved in numerous projects like Kapotte Muziek, Beequeen, Goem, Zebra, Freiband, Wander, Shifts, Qst, Wasm, THU20.. just to name a few..
Since 2012 Modelbau is Frans' main project doing live improvisational electronics focusing on mainly analog sound sources.
"November 2020 was a very productive month for Modelbau. I spent no less than 20 evenings recordings bits of music, and as with all things Modelbau all of this is recorded live to two tracks. This month I used a lot of (iPad) synthesizers, a lot of radio sounds, Korg MS20 and only a small bit of cassettes. I selected the best bits, applied minimal editing."
Senderfolge has been culled from these November 2020 sessions.
Here we find the Modelbau at its best: creating beautiful and subtle environments that feel quite familiar but alienating at the same time. Like the hazy memory of a place you have (almost) forgotten about.. Slowly shifting electronics with radio fragments and hiss trickling through and fading away again.

High quality 'pro duped' transparent on-body printed C60 cassette.
Housed in a deluxe debossed cardboard linen-look box packed in a specially designed shipping box. The shipping box itself is part of this release, all copies are slightly different and personalised. Open with care..

Limited to 40 numbered copies.

Senderfolge was released on 4-3-21
It has now sold out!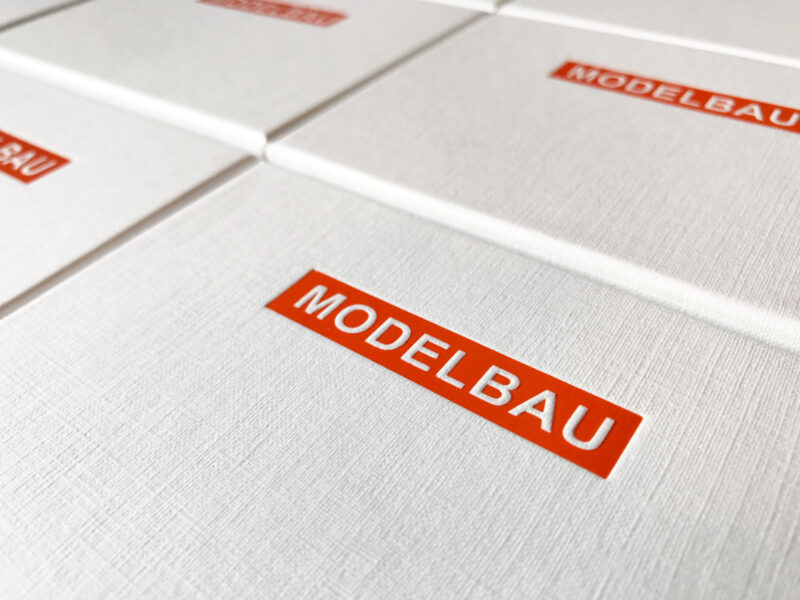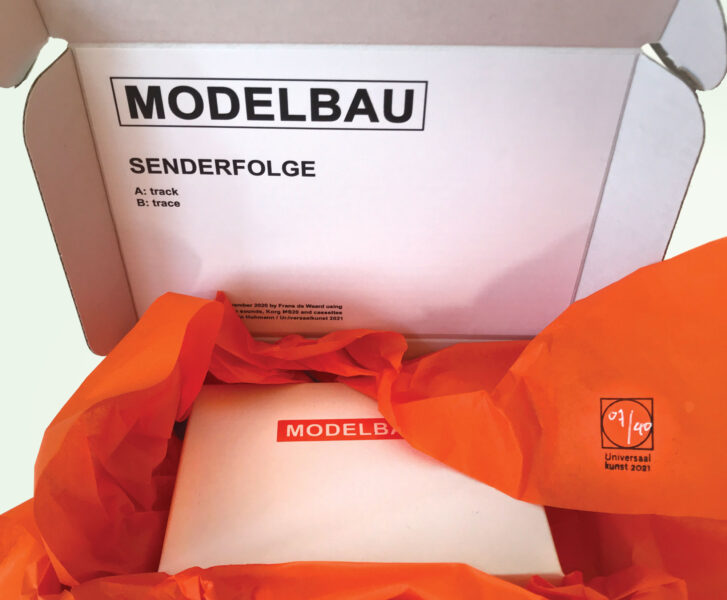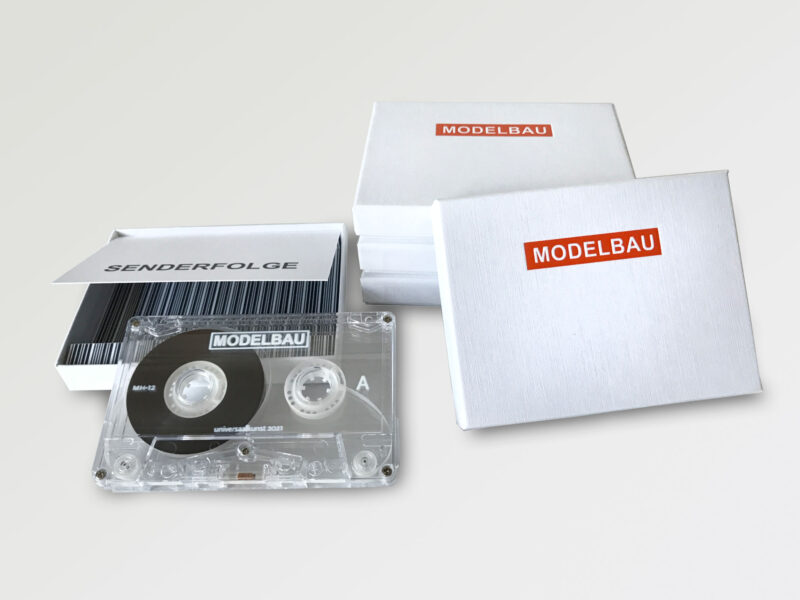 Posted on September 24, 2020
Filed Under Releases, Uncategorized
Number 10 is the last one in the Fabriek Remix series and will be released on 01-10-2020.
The design and the remix for this one is done by Martijn Hohmann.
Buy your copy at Bandcamp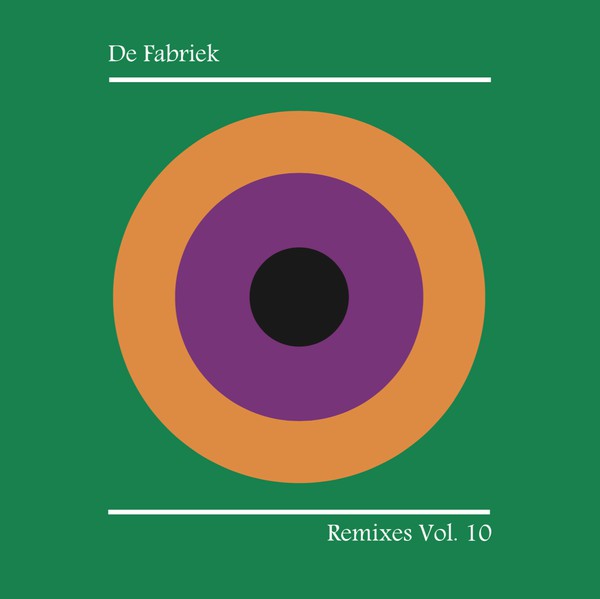 De Fabriek Remixes Vol. 10
Music by C. Gloomy, D. Bosten, D. Donck, F. de Waard, J. Turkenburg, J. Schirris, K. Mons, M. Heijmans, M. Hohmann, P. van Vliet, Q. Dierick, R. Hemmes, R. Paes, R. van Dellen, T. Heijmans
keep looking »