Posted on March 3, 2008
Filed Under Geluidpost, lokaal01, Releases
If all goes well there might be a 2CD release with the nine pieces featured during my period as curator of Geluidpost.
Release would possibly be around spring 2009.
More on this later…
Best,
Martijn Hohmann
Posted on November 4, 2007
Filed Under Releases
A review featured in Vital Weekly
MARTIJN HOHMANN & MARC HEIJMANS – TRENDEL (12″ by UniversaalKunst)
The name Martijn Hohmann was more known to me as an organizer in his home town Breda (The Netherlands) than as a musician. As UniversaalKunst he is active inside music, drawing, graphic arts and installation. Here however under his own name with one Marc Heijmans, who is a graphic designer and illustrator. Together they produced a single sided record (on the other side there is silkscreened) in a boxed set edition of 75 copies and a regular edition of 100 copies. Perhaps Heijmans is responsible for the graphic part and Hohmann for the music? The instruments used are recordings played on a turntable, but the records are treated with a mezzotint rocker, a rubbermat, pieces of cardboard, water, a rubberband tied to the needle, and also used is a voice recording by their deceased friend Arthur van Keppel (to whom this is dedicated). Creating music with records is of course not something new (think Christian Marclay, Institut Fuer Fein Motorik, Tetrault and many more), but there is something quite nice about these recordings: dark, brooding, menacing, with some music leaking through, hand-spinning and more such like. More noise based than music based, but the matter is under control, which is a rare thing. Nice product, with, to top things of, a nice silkscreened cover and inner sleeve. (FdW)
Posted on September 4, 2007
Filed Under Geluidpost, Releases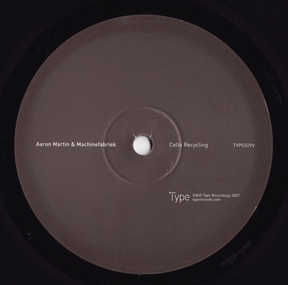 Machinefabriek's piece for Geluidpost feb. 2007 has been released as both a 10″ vinyl record and as a CD on Type records.
Another track from the same session has been added to this release.
Watch the details on Discogs..
« go back