Posted on November 24, 2009
Filed Under Releases
Martijn Hohmann – Equivocal Generation
One sided transparent 7″ vinyl pressing
Limited to 50 numbered copies in handmade foldout sleeves.
Finally available at 9,- euro a copy
Posted on November 14, 2009
Filed Under Events, Releases
The records have been pressed..Artwork is in the making…
This release will be in an edition of 50 copies.
A sub edition of moulded amber records is in the startup stage.. If all goes well this 7″ will be released on 24 november 2009. A tribute of some kind to Darwin's 'On The Origin Of Species' and Lucier's I'm sitting in a room'
"to all evolutionary concepts"
Posted on September 17, 2009
Filed Under Events, lokaal01, Releases
finally here..
A co release between Lokaal 01 & Universaal Kunst – LP-CD 02.
It contains all commissioned pieces curated by Martijn Hohmann during 2007 and 2008.
Tracklisting:
Machinefabriek
Janek Schaefer
Rudolf Eb.Er
Merzbow
(ad)vance(d)
Sonologie studenten
Steve Roden
Francisco López
Staplerfahrer
—————–
Vital review –>
Musiquemachine review –>
Posted on July 23, 2008
Filed Under Events, Geluidpost, lokaal01, Releases
For the second time a CD sampler has been released 'Avontuurlijke muziek'.
It's given as a freebee at Avontuurlijke Muziek concerts in Brabant and as a supplement to Gonzo Magazine.
All venues collaborating on the Avontuurlijke Muziek project/concept donated a track by one of the acts performing the upcoming year.
Lokaal 01's contribution is a track by Francisco López : Untitled #190
Francisco will be the next contributor for GeluidPost this upcoming september.
He will also be performing at Lokaal01 in Breda on September 27th at 20:00.
Posted on July 5, 2008
Filed Under Geluidpost, lokaal01, Releases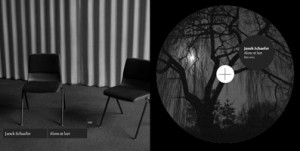 The composition Janek made for Geluidpost in may 2007 has been released on CD by Sirr records.
The CD is entitled 'Alone at last' and features eight commisioned pieces Janek made over the last decade.
Buy now!
Audioh.com
Sirr.com
Posted on March 3, 2008
Filed Under Geluidpost, lokaal01, Releases
If all goes well there might be a 2CD release with the nine pieces featured during my period as curator of Geluidpost.
Release would possibly be around spring 2009.
More on this later…
Best,
Martijn Hohmann
Posted on November 4, 2007
Filed Under Releases
A review featured in Vital Weekly
MARTIJN HOHMANN & MARC HEIJMANS – TRENDEL (12″ by UniversaalKunst)
The name Martijn Hohmann was more known to me as an organizer in his home town Breda (The Netherlands) than as a musician. As UniversaalKunst he is active inside music, drawing, graphic arts and installation. Here however under his own name with one Marc Heijmans, who is a graphic designer and illustrator. Together they produced a single sided record (on the other side there is silkscreened) in a boxed set edition of 75 copies and a regular edition of 100 copies. Perhaps Heijmans is responsible for the graphic part and Hohmann for the music? The instruments used are recordings played on a turntable, but the records are treated with a mezzotint rocker, a rubbermat, pieces of cardboard, water, a rubberband tied to the needle, and also used is a voice recording by their deceased friend Arthur van Keppel (to whom this is dedicated). Creating music with records is of course not something new (think Christian Marclay, Institut Fuer Fein Motorik, Tetrault and many more), but there is something quite nice about these recordings: dark, brooding, menacing, with some music leaking through, hand-spinning and more such like. More noise based than music based, but the matter is under control, which is a rare thing. Nice product, with, to top things of, a nice silkscreened cover and inner sleeve. (FdW)
Posted on September 4, 2007
Filed Under Geluidpost, Releases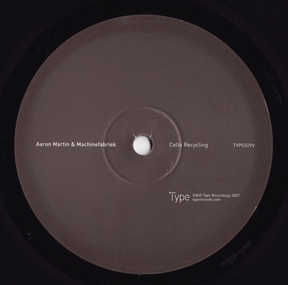 Machinefabriek's piece for Geluidpost feb. 2007 has been released as both a 10″ vinyl record and as a CD on Type records.
Another track from the same session has been added to this release.
Watch the details on Discogs..
« go back